Headteacher Welcome
Headteacher's Message
I am extremely proud and excited to be the Headteacher at Harborne Academy. As the Deputy Head here for over four years I have been part of an amazing team of staff, students, parents and governors who all work hard to ensure that Harborne Academy is a positive, welcoming and successful place for students and staff.
Harborne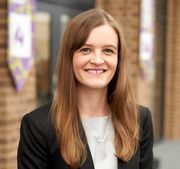 Academy students have access to brilliant teaching and a wealth of fantastic extracurricular experiences from the moment they start in year 7 to when they leave us in Year 11, ready to start the next chapter of their education. We are extremely proud of our past students many of whom come back and share their new lives with us.
It is my belief that as educators we have the best job in the world and we have a responsibility to ensure that the students in our care are not only safe, happy and learning at school, but are equipped to leave here and face the challenges of the modern world. To be proud of where they come from, to be able to voice their opinions, while listening and accepting that others may be different, to be respectful, courteous and curious.
We place literacy and a love of reading at the heart of our curriculum and have a fantastic library and cosy reading room to support our students to read in a comfortable environment. We make sure that students are nurtured to reach their full academic potential with support for those who need it and we offer an ambitious and challenging curriculum to stretch our students and ensure high aspirations. We are so lucky to have the University of Birmingham on our doorstep and we take full advantage of the opportunities they can offer our students through mentoring and lectures to stretch our most able students.
We are really pleased to finally be able to welcome our parents back on site after all the restrictions imposed by Covid-19. We have excellent facilities and are so excited to have our brand new 3G pitch to enhance our PE curriculum and extracurricular offer for all our students.
It is my aim to ensure that we work in partnership with our parents and carers to ensure the very best possible outcomes for every child. If there is anything that we can do to support, please do not hesitate to contact us.