Maths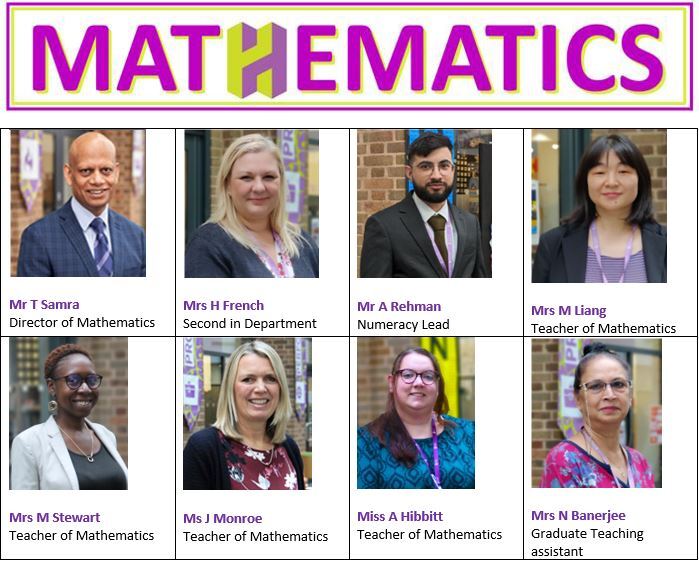 Contacting the department
If you have any questions or concerns about your child, please don't hesitate to contact a member of the Mathematics department by leaving a message with Reception or by emailing our enquiry address.
We aim to respond to phone calls and emails as quickly as possible, and certainly within 48 hours. Please bear in mind that members of staff may have a day of teaching and may not be able to respond to non-urgent matters until the end of the Academy day or the following Academy day.
By telephone: 0121-464 2737 (main school switchboard)
By email: enquiry@harborneacademy.co.uk
KS3 Mathematics
In KS3 students will develop their knowledge and understanding Number, Algebra, Geometry and Statistics. At the centre of each KS3 topic, there is a focus on fluency, problem solving, reasoning and real-life applications: Fluency in lessons is designed to enable recall and build confidence; Problem solving practice teaches students to strategise and solve issues related to real-life context; Reasoning develops students to articulate the processes leading to their answer.
KS4 Mathematics
Mathematics is compulsory at Key Stage Four, developing skills taught at KS3. The following is key information regarding the course.
Exam Board
Pearson Edexcel Level 1/Level 2 GCSE (9–1) in Mathematics (1MA1) – Syllabus and past papers are available on the Pearson Edexcel website.
Exam Information
The Pearson Edexcel Level 1/Level 2 GCSE (9 to 1) in Mathematics is a tiered qualification. There are two tiers:
Foundation tier – grades 1 to 5 available
Higher tier – grades 4 to 9 available (grade 3 allowed).
There are 3 papers per tier all equally weighted with the content consisting of:
Number
Algebra
Ratio, Proportion and rates of change
Geometry and measures
Statistics
Learning Journey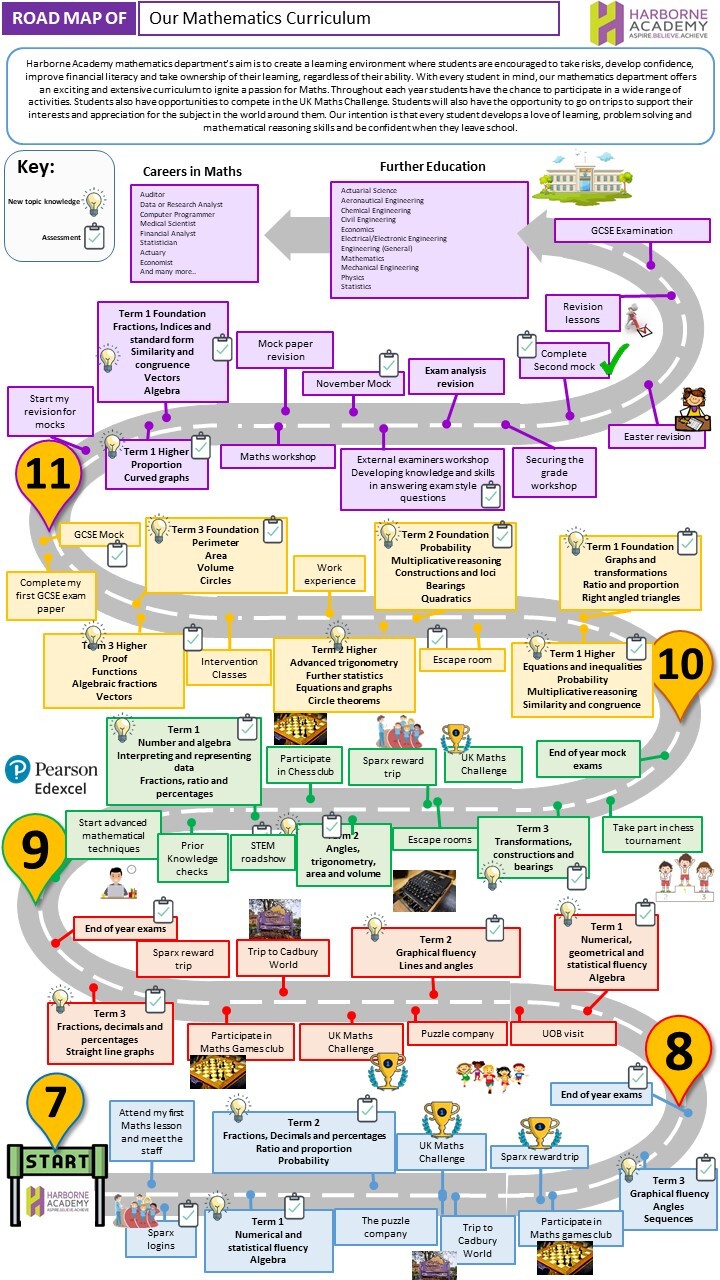 Careers Information
Studying mathematics helps develop skills in logical thinking, problem solving and decision-making, which are valued by employers across many job sectors.
There's a demand for mathematicians and statisticians across a range of sectors. Mathematicians work in the petroleum and nuclear industries, medicine and health, IT, business consultancy, operational research, space science and astronomy as well as many forms of engineering.
https://www.prospects.ac.uk/careers-advice/what-can-i-do-with-my-degree/mathematics
Mathematics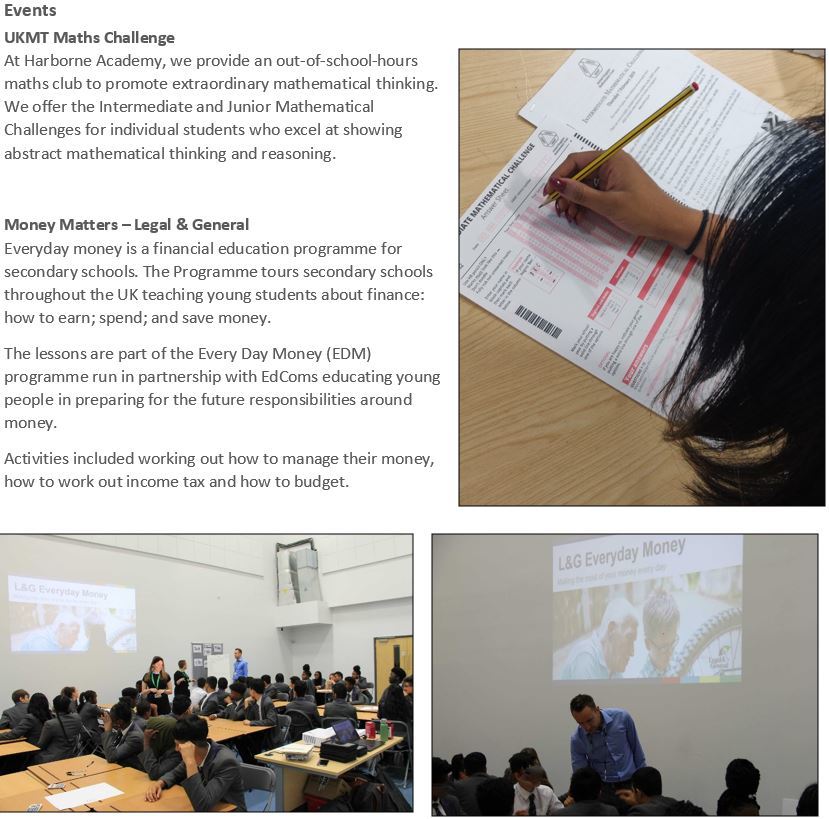 Barclays Life Skills
LifeSkills, created with Barclays, have one single-minded ambition – to inspire young people to get the skills they need for a better future.
LifeSkills works with teachers, parents and businesses to help young people:
Build a job-hunting toolbox
Find out how social media can supercharge a CV, get tips for creating strong covering letters and LinkedIn profiles, and practice interview techniques.
Identify skills
Interactive challenges help identify and develop personal skills – with useful advice on selling these skills to employers.
Gain experience
Offered by businesses, organised by teachers and driven by young people – by working through LifeSkills online, they would unlock valuable work experience.
These sessions will be delivered by qualified members of the LifeSkills team once a half term during PSHE days.
Pupils in Year 8 and Year 11 were given the opportunity to work through a bespoke session around understanding money management, budgeting and debt.
All students stated that they gained confidence in the following aspects of money management as a result of the session delivered:
Identifying ways of reducing spending and saving regularly by completing a budget
Discussing different reasons for, and ways of, borrowing money
Completing a savings action plan
"I rated the session 'Good' because I learnt new things about how to calculate monthly balances and the best ways to improve my credit score"
"I rated the session 'Very Good' because it was fun and I enjoyed it, I also learnt a lot"
"I rated the session 'Very Good' because it helped me understand the ropes of the financial plans and helped me understand what I should do with my money when I'm older"
Students looked at case studies and delved into the finances of different individuals, coming up with action plans to enable them more control over their money.
Annual Chess Championship
At Harborne Academy we like promote logical thinking, problems solving and exciting ways to experience the wonderful world of mathematics.
Harborne Academy embarked on its first official Chess Championship in 2020 and we have seen some outstanding games of Chess from our students!

Learning Guide
Useful Websites
Reading List