Food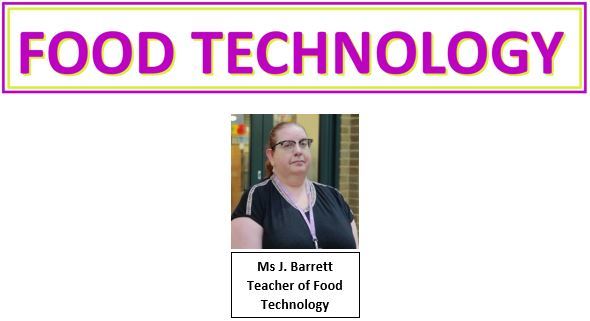 Contacting the department
If you have any questions or concerns about your child, please don't hesitate to contact a member of the Art department by leaving a message with Reception or by emailing our enquiry address.
We aim to respond to phone calls and emails as quickly as possible, and certainly within 48 hours. Please bear in mind that members of staff may have a day of teaching and may not be able to respond to non-urgent matters until the end of the Academy day or the following Academy day.
By telephone: 0121-464 2737 (main school switchboard)
By email: enquiry@harborneacademy.co.uk
Food Curriculum
Food is a vital part of our daily lives and is essential for life. As our students become adults and have busy lives, it is easy to choose food which has been ready prepared, however, it is more nutritious and often cheaper to cook simple, delicious food. Learning how to cook is a crucial life skill that enables pupils to feed themselves and others affordably and well, now and in later life.
The KS3 schemes of learning intends to instil a love of cooking in pupils while teaching nutrition, healthy eating, food provenance and the working characteristics of food materials. At its heart, the subject focuses on nurturing students' practical cookery skills, providing them with a strong understanding of nutrition.
KS3 (see Learning Journey):
Students will focus on the following:
How to understand and apply the principles of nutrition and health
How to cook a repertoire of predominantly savoury dishes so that they become skilled in making meals for a healthy and varied diet
Competency in a range of cooking techniques including: selecting and preparing ingredients; using utensils and electrical equipment; applying heat in different ways; using awareness of taste, texture and smell to decide how best to season dishes and combine ingredients
The functional properties of food
An understanding of the source, seasonality and characteristics of a broad range of ingredients
PLEASE NOTE: Students in year 7, 8 & 9 are on rotation between Art, Food & Design Technology. They receive 2 terms in each area over the course of the year.
KS4
Food is optional at Key Stage Four; the following is key information regarding the course for Yr11 and the new course for Yr10.
Yr11: Exam board
WJEC / EDQUAS Hospitality and Catering Level 1 / 2
Course Information
Vocational course which is equivalent to one GCSE awarded at grades level 1 pass, level 2 pass, level 2 merit, level 2 distinction. The qualification is made up of two units of study.
Unit 1 (The hospitality and catering industry) is an examination and worth 40%: this includes learning about the vocational sector and applying this to various establishments – how they operate efficiently, legally and financially whilst meeting the needs of their clients
Unit 2 (Hospitality and catering in action) is internally assessed and is worth 60%: safely prepare, cook and present nutritional dishes to a given scenario
Yr10 (see Learning Journey): Exam board
NCFE Level 1/2 Technical Award in Food and Cookery
Course Information
This qualification is designed to match the rigour and challenge of GCSE study. The qualification is graded at level 1 pass / merit / distinction and level 2 pass / merit / distinction / distinction* (equivalent to GCSE grades 8.5 to 1).
The qualification has 2 assessments: one non-exam assessment (16 hours 30 minutes) and one written exam (1 hour 30 minutes).
Content areas to be covered
Content area 1: Health and safety relating to food, nutrition and the cooking environment
Content area 2: Food legislation and food provenance
Content area 3: Food groups, key nutrients and a balanced diet
Content area 4: Factors affecting food choice
Content area 5: Food preparation, cooking skills and techniques
Content area 6: Recipe amendment, development and evaluation
Content area 7: Menu and action planning for completed dishes
Non-exam assessment (moderated coursework - 16 hours 30 minutes)
Non-exam assessment encourages students to combine elements of their learning and to show accumulated knowledge and understanding across the content areas. It enables them to show their ability to integrate and apply knowledge, understanding and skills with breadth and depth. It also requires them to demonstrate their capability to apply knowledge, understanding and skills across a range of units and learning outcomes that are being assessed.
Task 1: Amending a recipe
Task 2a: Preparing and cooking an amended recipe
Task 2b: Evaluating an amended recipe
Task 3a: Menu and action planning for a two course meal
Task 3b: Preparing and cooking a two course menu
Task 3c: Evaluating a two course meal
Task 4a: Preparing and cooking a dish suitable for someone with a food-health condition
Task 4b: Evaluating a dish suitable for someone with a food-health condition
Learning Journey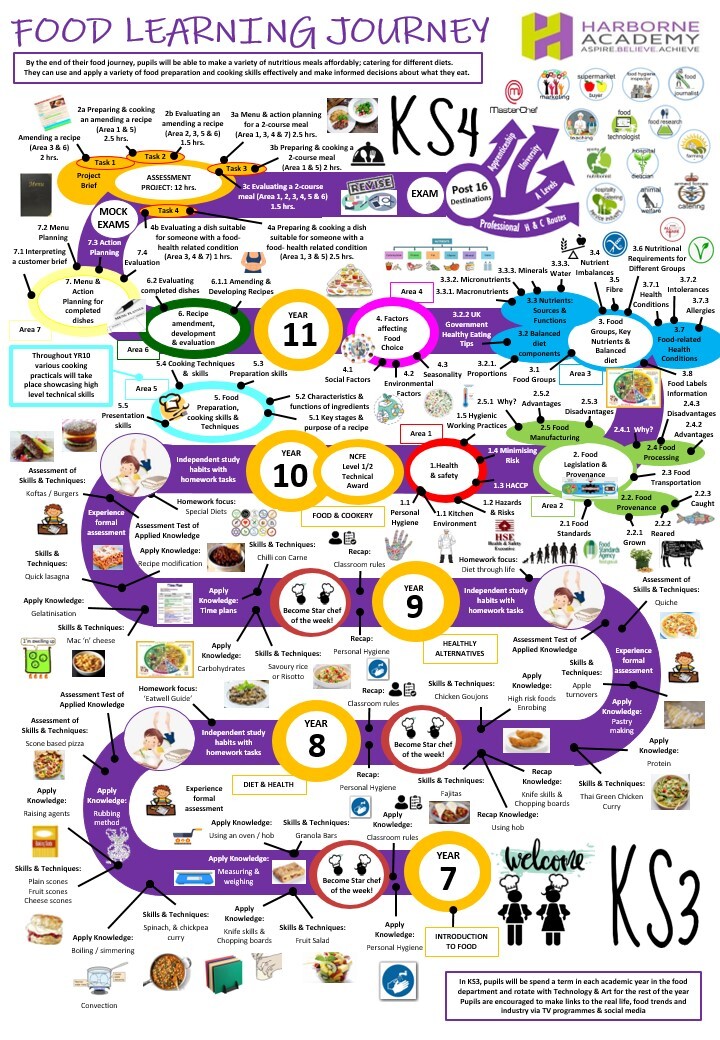 Food Enrichment opportunities:
Tunnocks Teacake Challenge
The challenge for 2022 was to present a Tunnock's Teacake to the theme of 'The Natural World': it is a national competition judged by fellow food teachers and there are 3 categories in which the Academy could only enter 1 student for each. One pupil was awarded 1st prize and another was given the 'Judges Recommendation' and all entries are placed in a book which will be available in the Academy library.

Careers Information
Studying food can lead to exciting and well-paid career options. Consumers are becoming increasingly reliant on the food industry to develop solutions for their nutritional needs. This course could lead you into roles such as a chef, food product developer, buyer (who travels the world, sourcing new food products for manufacturers), food safety inspector, nutritionist, dietician, quality managers, teacher, food engineer, food scientist, food technologist, food photographer, food stylist, home economist, hotel and restaurant manager, microbiologist, journalist for food magazines, radio and television – for more information on food careers please visit www.tastycareers.org.uk
Useful websites
Reading List