Careers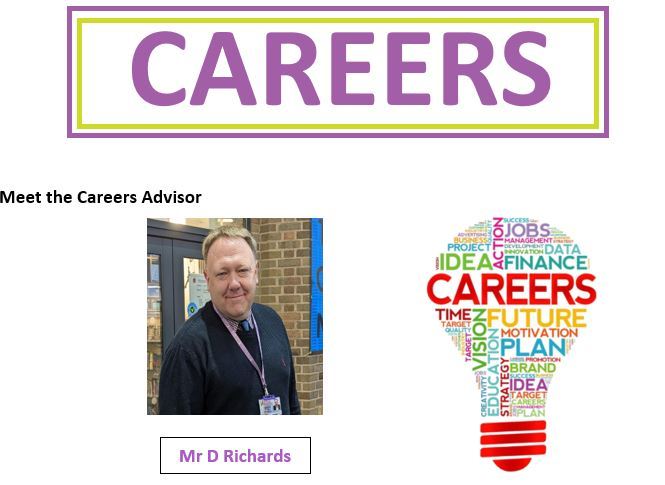 Contacting the Careers Advisor
At Harborne Academy, we are committed to supporting our students with their career decision making. Our School Careers Adviser, Mr. Richards provides careers information, advice and guidance to them, which is detailed in our career offer and flexible programme that meets the 8 Gatsby Benchmarks of Good Career Guidance
If you have any questions linked to careers, please don't hesitate to Mr Richards by leaving a message with reception or by emailing our enquiry address.
We aim to respond to phone calls and emails as quickly as possible, and certainly within 48 hours.
By telephone: 0121-464 2737 (main school switchboard)
By email: david.richards@harborneacademy.co.uk
The Harborne Academy Careers Programme - click here
The Careers Offer - click here
The Provider Access Policy - Click here
The Careers Policy - click here
The Role of the School Careers Adviser
Mr. Richards is School Careers Adviser. He provides information, advice and guidance to help the students make realistic choices about their education, training or work. He provides one-to-one impartial and confidential careers advice and guidance interviews to students through booked appointments as well as during the lunchtime Careers Drop-In. He works in conjunction with curriculum leaders, engaging with employers to help shape and design the careers programme in line with the 8 Gatsby Benchmarks
The Careers Offer
Provide one-to-one impartial and confidential careers advice and guidance interviews for students through booked appointments
Careers group delivery on a variety of topics to support the curriculum delivery in Years 7 - 11
Careers Drop – In Service at lunch times during the week (Tuesday to Friday)
Guidance on Further and Higher Education choices
Support at parents' information and options evenings
Work Experience /work related learning including leading on the work experience process for Year 10 students
Advice on all aspects of employability, including traineeships and apprenticeships
A Careers Information point in the library where students can access up-to-date careers information.


This policy statement sets out the school's arrangements for managing the access of providers to students at the Academy for the purposes of giving them information about the provider's education or training offer. This complies with the Academy's legal obligations under Section 42B of the Education Act 1997.
Student Entitlement
Students in Years 7-11 are entitled:
To find out about technical education qualifications and apprenticeships opportunities, as part of a careers programme which provides information on the full range of education and training options available at each transition point.
To hear from a range of local providers about the opportunities they offer, including technical education and apprenticeships – through options evenings, assemblies and group discussions and taster events.
To understand how to make applications for the full range of academic and technical courses/vocations.
Management of provider access requests procedure
A provider wishing to request access should contact Mr. Andrew Farrell, AHT for Careers, or Mr. Richards, Careers Adviser , by either telephoning the Academy on 0121 464 2737 or email on enquiry@harborneacademy.co.uk
Opportunities for access
A number of events, integrated into the Academy careers programme, will offer providers an opportunity to come into school to speak to students:
Please speak to the Careers Adviser, Mr. Richards to identify the most suitable opportunity for you.
The Academy policy on safeguarding sets out the Academy's approach to allowing providers into school as visitors to talk to our students.
Premises and facilities
The Academy will make the main hall, sports hall(s), library, classrooms or private meeting rooms available for discussions between the provider and students, as appropriate to the activity. The Academy will also make available AV and other specialist equipment to support provider presentations. This will all be discussed and agreed in advance of the visit with the Careers Adviser, or the Senior Leadership Team link.
Providers are welcome to leave a copy of their prospectus or other relevant course literature in the 'Careers Section in the Academy library. The Academy library is available to all students before Academy hours, break times, lunchtimes, and after Academy hours.
Approval and review
This Policy will be reviewed on an annual basis by the Governors' Curriculum and Monitoring Committee.

Scope and purpose
Harborne Academy is committed to providing high quality careers education, information, advice, and guidance (CEIAG) for all its students thereby equipping them to obtain employment training and education appropriate to their needs and to fulfil their potential. This policy applies to all students in Years 7 to 11.
A young person's career's is their pathway through learning and work. All young people need a planned programme of activities to help them make choices that are right for them and to be able to manage their careers throughout their lives. Schools have a statutory duty to provide careers education in Years 7 – 11 and to give students access to careers information and impartial advice and guidance.
This policy is written in accordance with the DfE guidance: 'Careers Guidance – Statutory guidance for schools.'
Policy statement
The school aims to:
• Respond to the needs of its community and stakeholders.
• Provide comprehensive information, advice, and guidance to help students raise their aspirations and to support them with their career choices
• Actively promote equality of opportunity and challenge stereotypes.
Provision
The careers programme includes the delivery of careers education sessions as part of the PSHE programme in Years 7 – 11, career guidance activities (group work and individual interviews), information and research activities, work-related learning (including work experience in Year 10. and individual action plans to record interventions.
Principles
• is inclusive, recognises and promotes equality and diversity, challenges stereotypes and is sensitive to faith, culture, and background.
• is transparent, impartial and provides opportunities for confidentiality.
• is enhanced by strong networks and collaborative approaches involving the pastoral leaders, curriculum teams and external partners
• Helping students to progress into positive destinations after leaving the school by raising their awareness of opportunities, utilising Labour Market Intelligence, supporting students with employability skills and with applications to Further Education
A student may benefit from careers guidance, for example, if they:
• are uncertain of their choice at course at key transitional stages in Year 9 and 11
• do not meet the entry requirements for their chosen career path
• have a poor rationale for their choices
• have non-existent or unrealistic career plans.
The Model: 'Gatsby Benchmarks' of Good Careers Guidance
1. A stable careers programme
• Every school should have a stable, structured careers programme that has the explicit backing of the senior management team and has an identified and appropriately trained person responsible for it.
• The careers programme should be published on the school's website for people to access.
2. Learning from career and labour market information
Every learner, and their parents (where appropriate), should have access to excellent quality information about future study options and labour market opportunities.
• Parents should be encouraged to access and use information about labour markets and future study options to inform their support to the students in their care.
3. Addressing the needs of each student
Learners have different career guidance needs at various stages. A schools careers programme should embed equality and diversity considerations throughout.
• The school will collect and maintain accurate data for each learner on their education, training, or employment destinations.
4. Linking curriculum learning to careers
The Careers Adviser will be working in conjunction to with the Curriculum areas to incorporate careers exploration, thinking and education to compliment it.
5. Encounters with employers and employees
• Students should record and take account of their part-time employment and the influence this has had on their development.
*A 'meaningful encounter' is one in which the student has an opportunity to learn about what working life is like.
6. Experiences of workplaces
Every student should have first-hand experiences of the workplace through work visits, work shadowing and/or work experience to help with their exploration of careers in terms of work Experience, this will be completed in Year 10.
7. Encounters with further and higher education
All students should understand the full range of learning opportunities that are available to them to make an informed decision
By the end of their programme of study, every student should have had a meaningful encounter with a range of providers of learning and training that may form the next stage of their career. This should include as appropriate, further education colleges, higher education and apprenticeship and training providers.
8. Personal guidance
Every student should have opportunities for guidance interviews with a career adviser, who could be internal (a member of school staff or external, provided they are trained to an appropriate level 6 standard.
Our offer to students
We offer:
• One-to-one appointments with the School Careers Adviser who is a qualified Careers Guidance Practitioner at Level 7
• The opportunity to speak to the School Careers Adviser, during lunch time Drop-in service during the week
• Appointments of 50 minutes for more complex enquiries (Parents are welcome to attend)
• Telephone /email guidance can also be provided to students
Careers education includes:
• Talks from speakers, such as employers and representatives from Further and Higher Education establishments
Student Entitlements
• The service is concerned with promoting equality and raising aspirations and aims to meet the diversity of student needs
• To maintain confidentiality, we will share personal information about students with others outside of our service only with students' permission or where we are legally obliged to do so
The Careers Leader in the school is responsible for: -
Promoting the value of CEIAG
• Offering a differentiated approach for students with SEND
Influencing the development of strategy and implementing the delivery of the school's programme of career advice and guidance
Ensuring that the school has published on their website details of the Careers Programme.
• Ensuring that gender stereotyping is avoided in all career interventions and that they adhere to school's principles of equality, diversity, and inclusion
• Making effective use of Labour Market Information (LMI) to support careers interventions, and making those resources widely available to students, and parents / carers as appropriate
• Ensuring access to information on a full range of learning and progression opportunities, including academic, vocational, and technical options – need meaningful encounters with a range of providers including other FE providers, universities, apprenticeship, and training providers.
• Ensure that all records of careers interactions are kept in accordance with GDPR guidelines
Ensuring the destinations of students from the school are tracked and that this information is used to improve the effectiveness of the school's careers programme
Working with the relevant staff to support the development of alumni networks
Working with external agencies including the Careers and Enterprise Company and Birmingham Careers Service.
Curriculum staff contributes to CEIAG through their roles as teachers, and are responsible for:
• Promoting equality of opportunity, being aware of confidentiality issues and dealing sensitively with information disclosed by students
• Linking lessons/activities to the appropriate outcomes in schemes of work / PSHE programme, using a range of methodologies to ensure effectiveness
Student should:
Work co-operatively with staff and fellow students, respecting the views of others and the principles of equality and diversity.
Quality Assurance
The school has robust quality assurance systems and is evaluated by:
• Regular reviews of the delivery of CEIAG against the key principles.
Monitoring and Evaluation of the Careers Programme
CEIAG staff will seek feedback from students and staff about the relevance of the CEIAG programme and materials used to improve the service for future students. This feedback will be reported to the Careers Adviser to ensure delivery and identify development needs and areas for improvement.
The methods used to gain student feedback will include:
• Student surveys.
• Feedback form at end of workshops/talks/events.
Review and monitoring
The Head Teacher / Governors will review the policy on an annual basis following evaluation of the service.