MFL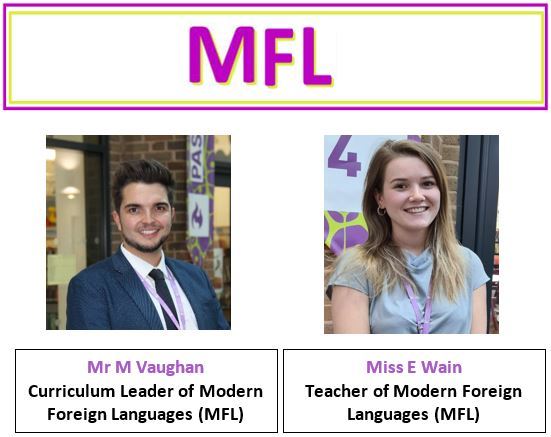 Contacting the department
If you have any questions or concerns about your child, please don't hesitate to contact a member of the MFL department by leaving a message with Reception or by emailing our enquiry address.
We aim to respond to phone calls and emails as quickly as possible, and certainly within 48 hours. Please bear in mind that members of staff may have a day of teaching and may not be able to respond to non-urgent matters until the end of the Academy day or the following Academy day.
By telephone: 0121-464 2737 (main school switchboard)
By email: enquiry@harborneacademy.co.uk
At Harborne Academy, we believe that the study of a foreign language not only provides our pupils with useful transferable skills which are fast becoming essential in a modern and highly competitive world, but it also gives them a liberating and life-enhancing experience, which adds breadth to their cultural, social and linguistic knowledge and skills.
At Harborne Academy French is taught from Year 7 up to GCSE.
This year we will be introducing Spanish for Year 7 students who will be able to choose between the two languages moving forward up to GCSE.
KS3 French and Spanish
In KS3, pupils will develop key skills and the linguistic knowledge which will set them up for success in tackling the challenges of GCSE languages. Students will begin by delving into an introduction to the French language, including learning about French and Francophone culture, giving personal descriptions and talking about school life. Students will then spend three half terms completing the same language skills in Spanish before choosing a language to continue into year 8. By their second year, students will further enhance their linguistic skills in topics linked closely to the GCSE course, giving a solid foundation for further study.
Year 7 Discovery
Welcome to France/Spain
Greetings
School
All about me
Y8 Foundation
All around me – my town and area
Sport, leisure and food
Lifestyle
Entertainment and advertising
Technology
Festival and special events
Y9 Emerging
Family
Where I live
Personal interests
New technology in everyday life
The environment
KS4 French
French is a popular optional subject at Harborne Academy that gives students a deeper understanding of the French language and culture. The course is broken into three key themes, further details of which can be found below:
Identity and culture
Global, national, international and global areas of interest
Current and future study and employment
Exam board
AQA GCSE French. Course information and past papers can be found in the link below.
Exam Information
There are 4 papers for GCSE French, each focusing on one of the four key languages skills.
Listening (25%)
Speaking (25%)
Reading (25%)
Writing (25%)
For the 2021 exam, Ofqual has made the decision to remove the speaking paper, making the reading, writing and listening paper worth 33% each. Students will still complete a speaking element which will be awarded as pass, merit or distinction alongside their overall GCSE grade.
Overall Year Plan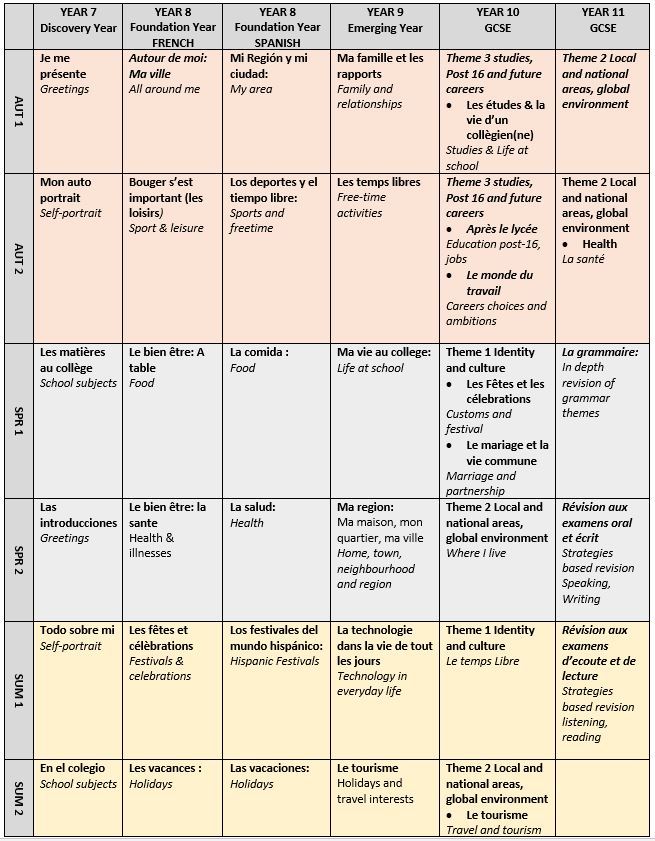 Careers information
Languages are widely considered a key skill in the current labour market, lending themselves to almost any career. The communication and other transferable skills learned during language acquisition can be used to gain careers in global companies in any sector. There has never been as much need to gain these skills that give an edge as there is today in the current competitive labour market.
MFL events
We have recently been involved in the European Day of Languages that was a wonderful event celebrating the importance of different languages and cultures in today's world. Students took place in inter-form competitions, individual quizzes and the incredible cultural dress.
Enrichment opportunities: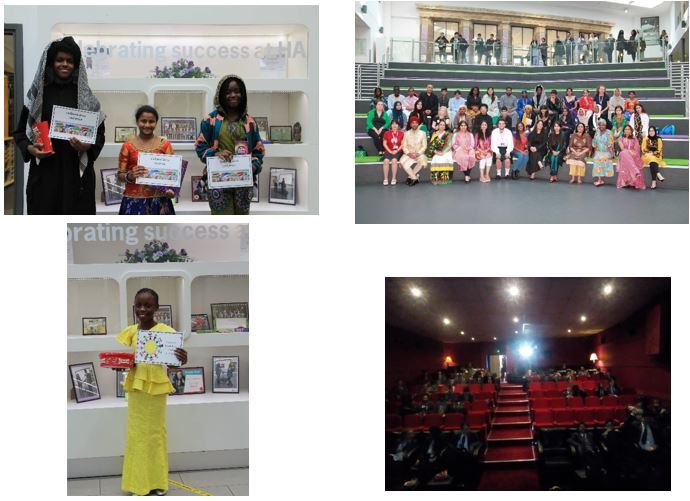 Enrichment Opportunities
In Modern Foreign Languages students are able to enter GCSEs in their home languages with support. There is also planned to be the opportunity to develop skills in Spanish. Links have been developed with both Aston University as well as the University of Birmingham for students to gain insight into languages at further study as well as the place of languages in modern society. We also run trips to the Electric cinema in Birmingham, the UK's oldest working cinema, to screen French films in an authentic setting.
Useful websites and books
For exam past papers
https://www.aqa.org.uk/subjects/languages/gcse/french-8658/assessment-resources