History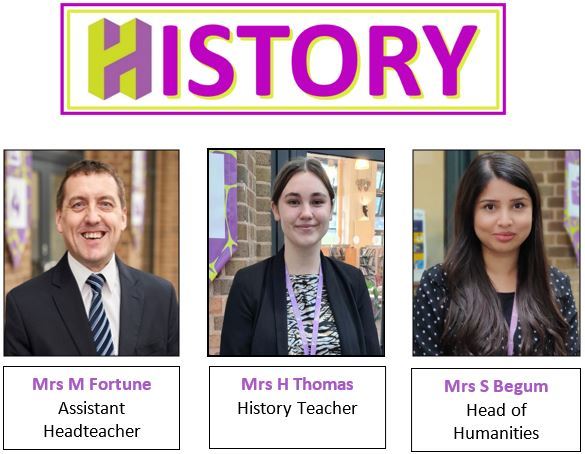 Contacting the Team
If you have any questions or concerns about your child, please don't hesitate to contact a member of the History team by leaving a message with reception or by emailing our enquiry address.
We aim to respond to phone calls and emails as quickly as possible, and certainly within 48 hours. Please bear in mind that members of staff may have a day of teaching and may not be able to respond to non-urgent matters until the end of the Academy day or the following Academy day.
By telephone: 0121-464 2737 (main school switchboard)
By email: enquiry@harborneacademy.co.uk
KS3 History
In KS3 pupils will develop their knowledge and understanding of key issues and events on a local, national and international scale. The units they will cover during English Plus in Year 7 and History lessons in Year 8/9 cover history from the Norman Invasion of England in 1066 to the Civil Rights movements of the 1960's. The course follows a chronological pathway that explores how the United Kingdom has become shaped by its social, political and international relationships throughout the last 1000 years. The course also recognises and celebrates the diversity and multi-cultural make up of our school community through a study of Black History and post war immigration to the United Kingdom.
KS4 History
History is optional at Key Stage Four and is a popular choice with pupils. The following is key information regarding the course.
Exam board:
AQA GCSE (9-1)
Exam Information:
Paper 1
Period Study
Germany 1890 1945: Democracy and dictatorship Period Study –
Wider world depth study
Conflict and tension: 1918 - 1939
Paper 2
Thematic study
Health and the people: c1000 to the present day
British depth study
Norman England: c1066 – c1100
Careers Information
Employers value the research, analytical, teamwork and communication skills that history students develop throughout their degree. Those who study history should be practised in applying lessons of the past to help resolve problems of the present, and have the ability to apply an analytical mind set to all kinds of situations and challenges. These problem-solving and analytical skills are relevant in just about any industry which has a focus on current societies and future developments, particularly in the fields of business, politics and academia.
Overall Year Plan: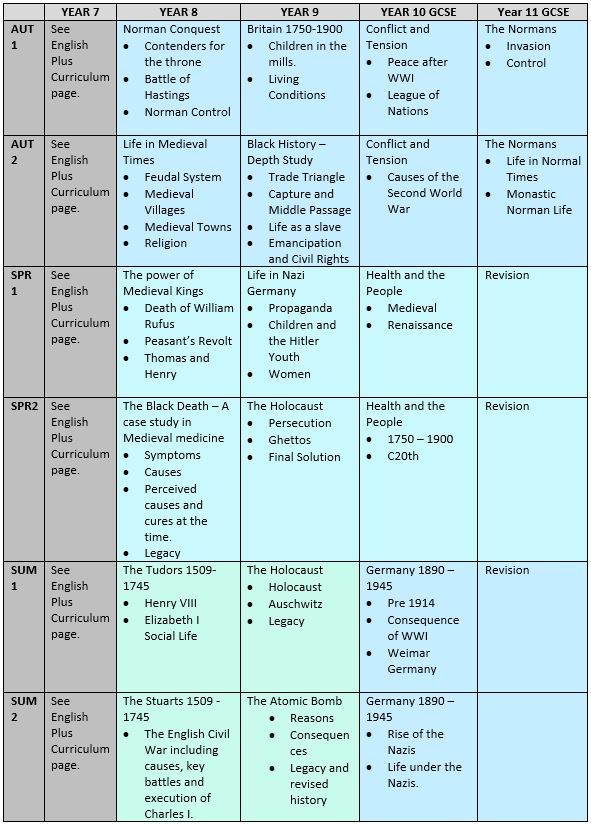 History Events
The History department will undertake a trip to a castle, a battle site or a cathedral to support GCSE studies. The venue will depend on the chosen site of the exam board on an annual basis.
Enrichment opportunities:
The history department is an inaugural element of annual battlefield trips to the Ypres Salient and the Somme.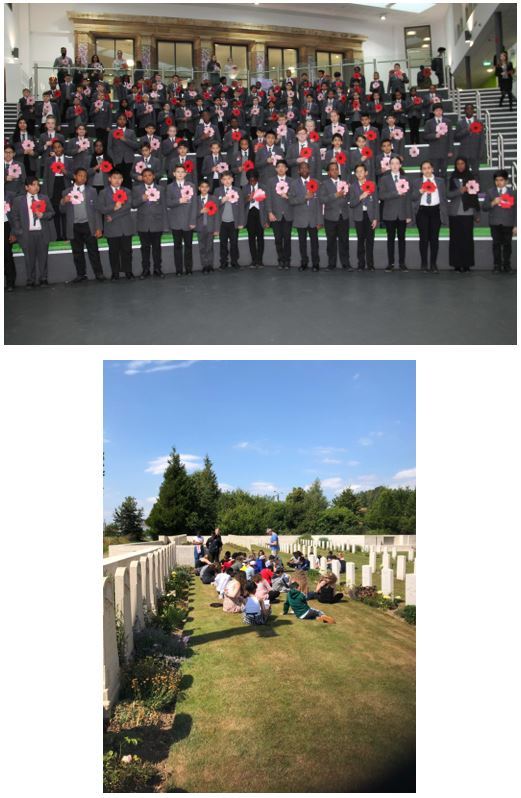 Useful websites and books: