English Plus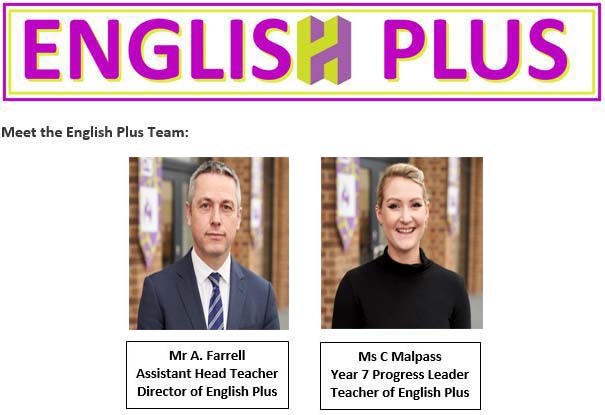 Contacting the Team
If you have any questions or concerns about your child, please don't hesitate to contact a member of the English Plus team by leaving a message with Reception or by emailing our enquiry address.
We aim to respond to phone calls and emails as quickly as possible and certainly within 48 hours. Please bear in mind that members of staff may have a day of teaching and unable to attend to non-urgent matters until the end of the Academy day, or the following day.
By telephone: 0121 464 2737 (main school switchboard)
By email: enquiry@harborneacademy.co.uk
English Plus
The English Plus curriculum offers Year 7 pupils at Harborne Academy a transition into secondary school with unique learning experiences. Our primary goal is to ensure that all students, regardless of their starting point, make exceptional progress; however, it is important to us that your child develops key skills that will support them throughout their academic career and beyond.
At the core of the curriculum is English; however, our carefully planned schemes of work also embed the teaching of History and the application of skills learned in Art. To ensure consistency and the nurturing environment pupils need as they transition from primary school, English Plus is delivered by a small team that works closely to ensure students have a real love for reading; have highly developed levels of oracy and are confident writers.
The English Plus curriculum means that work is channelled through beautiful, unique projects, giving learning a sense of purpose and pupils pride in their outcomes. Project orientated learning enables our students to develop key attributes, encouraging them to become resilient, creative, reflective and collaborative. Learning is brought to life further by a calendar of experiences from bespoke educational visits to external visitors, for example authors, poets, illustrators, theatre companies and historical interpreters. These rich experiences reflect back into the classroom to enhance and provide context for learning.
English Plus Homework:
In addition to the Key Stage Three homework booklet that is issued each half term, English Plus sets three types of homework to support students' development.
Differentiated skills homework: set on Monday and to be handed in on Wednesday – approximately 10 minutes.
Differentiated spelling and vocabulary homework: set each day. However, students are given the week's words each Monday. Students will be tested each week – approximately 25-30 minutes.
Reading: students are expected to read for between 10 and 15 minutes each night (Monday – Friday), preferably with an adult and have the reading signed by an adult.