Year 11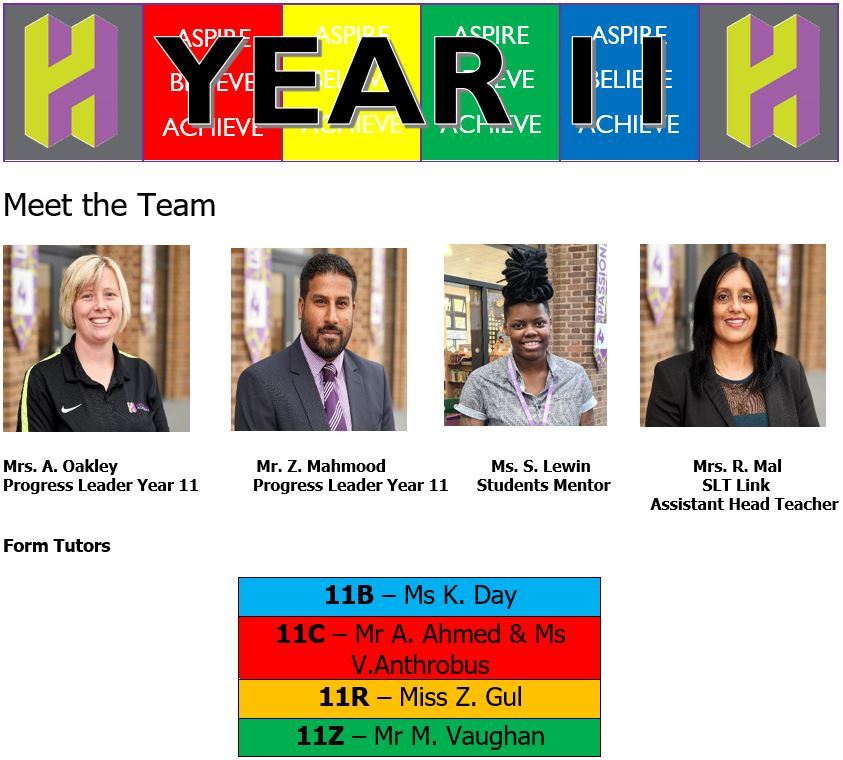 Contacting the Team
If you have any questions or concerns about your child, please don't hesitate to contact a member of the Year 11 team by leaving a message with Reception or by emailing our enquiry address with, for example, 'FAO Mrs Oakley or Mr Mahmood' as the subject.
We aim to respond to phone calls & emails as quickly as possible, & certainly within 48 hours. Please bear in mind that members of staff may have a day of teaching & may not be able to respond to non-urgent matters until the end of the Academy day or the following Academy day.
By telephone: 0121-464 2737 (main school switchboard)
By email: enquiry@harborneacademy.co.uk
Vision
Year 11 is a very stressful and busy time! Students start our rollercoaster journey as soon as they step through the door on their first day back in September. We are all aware of the extra pressure on our current year 11 cohort and as a whole academy we will support them each and every day. We recognise the hard work that many of our students did during the lockdown period and I am extremely proud of some of their efforts in keeping themselves motivated to work at such a young age. This takes a lot of commitment and dedication and highlights how many of our students want to ensure that they lead a successful life.
Unfortunately due to the COVID pandemic we are unable to run our usual expectations evening, we will endeavour to send all necessary information out to parents in the post and we will continually update our students with all necessary information.
Our first set of Mock exams are in November and this allows us to see where every student is at that point, it provides the students, teachers, parents and the academy with powerful and motivational data. We celebrate the end of the mock exams by having a results day, students pick up their results together in assembly and support each other and enjoy this time together. With the current situation we cannot stress the importance of any teacher assessments or mock exams. None of us know for sure what the future holds with regards to COVID and we have to learn lessons from last year. We are trying very hard to encourage our year 11 students to work hard and tackle assessment and mocks with the same positive attitude they would their GCSE exams just in case we need to use this data for them. We would really appreciate support from home in reinforcing this message.
Our first PSHE day will be based on careers and ensuring that each year 11 students has a very clear idea or are at least beginning to think about their future journey. We will do this by spending time researching colleges and courses as well as writing their personal statements. We will also keep students up to date with virtual college open days, again this is a lot different to what any of us have experienced and so we will work hard to support each student with their future plans. Most college application open from November so we will be looking to ensure that each students has applied for at least one course by December.
Our second set of mock exams arrives very quickly after February half term and we are expecting even better results than previous mock exams despite how good they may have been! These mocks really help students with their focus and the realisation really begins to kick in that they only have a few months before the real exams. We use these mock not only for the data but as a run for the real exams to help try and reduce stress levels. Students are provided with a breakfast and all meet in the library to revise together and continue their fantastic support for each other. To celebrate our students' success we again do our results day and we will link this to what offers they may have had from colleges and to see if they would have been accepted already.
Once we return from our Easter break we collapse our normal year 11 timetable and provide revision seminars for each subject, this runs right through the exams and allows the students to get that last mark they may need to push their grade to the next level. This has so far proved very successful and is really appreciated by our students. This plan is still in place although dates may change depending on exam dates.
The end of the ride is when we have our final exam! We all celebrate this in our leavers' assembly where we hear messages from staff, share our fond memories and share a lot of photographs taken during their 5 year journey. We are currently looking at planning the prom but we cannot confirm dates or venues due to the current situation. I am very keen to ensure that we have a huge celebration with our year group as we recognise the difficulties, stresses and hard work that they have so far been doing and will continue to do.
As progress leader of year 11 I feel privileged to work with these students and guide them. It is lovely to watch them grow in confidence and start to believe that they can achieve in life. I try to make year 11 as fun as it possibly can be yet keeping the students focused on the big picture. We have a great team in year 11 and our ethos is to work together to be the best we can all be.
Mrs Oakley
Year 11 Inspirational Quotes
"Nothing will work unless you do." Maya Angelou
"Success consists of going from failure to failure without loss of enthusiasm." Winston Churchill
"Your time is limited, don't waste it living someone else's life. Don't be trapped by dogma, which is living the result of other people's thinking. Don't let the noise of other's opinion drowned your own inner voice. And most important, have the courage to follow your heart and intuition, they somehow already know what you truly want to become. Everything else is secondary." Steve Jobs
"Success isn't about how much money you make, it's about the difference you make in people's lives" Michelle Obama

At Harborne Academy we expect students to be present in school every day. They should only be off school if they are very ill. A cough or cold is not a reason to not attend school. We are happy to offer support to overcome barriers to good attendance, please contact Miss Malpass if you have any concerns.
Year 11 Student Voice (Autumn Term 2020-2021)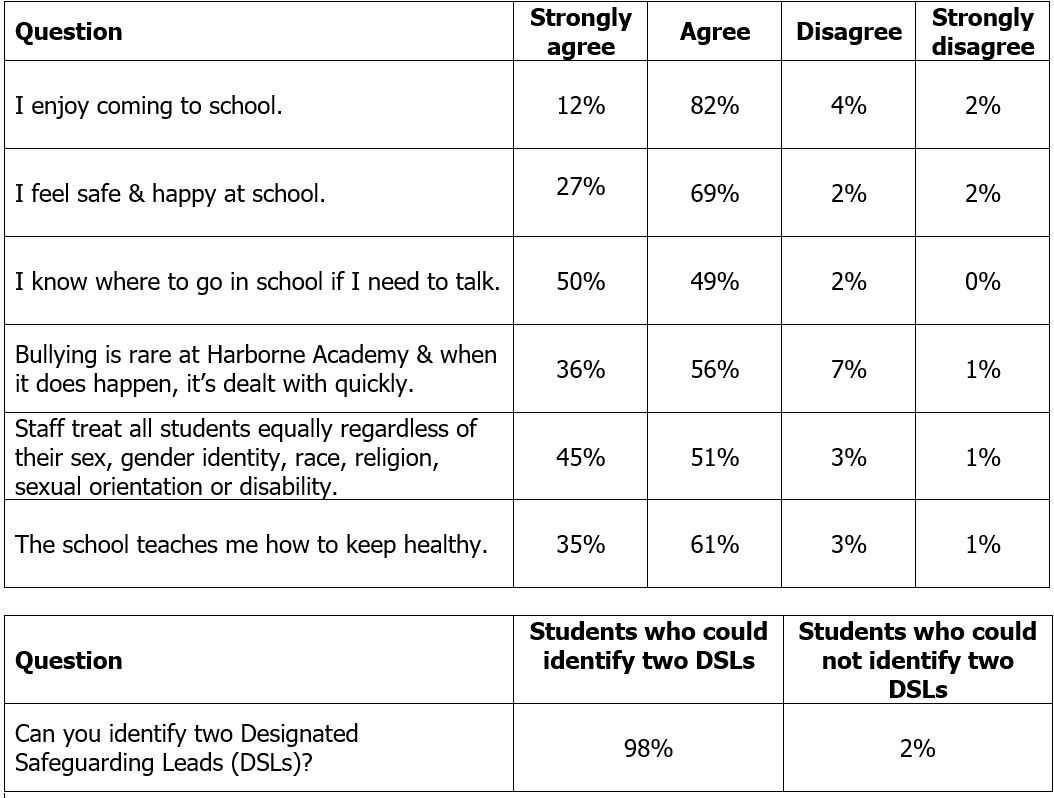 Head Boy and Head Girl:
Students who were made prefects last year were invited to apply for the role of head boy and head girl this year. They had to complete a letter of application and those selected were then asked to complete an interview with Mrs Oakley and Mrs Woodward. The interview consisted of a presentation and some questions. All candidates performed very well and did themselves proud on the day. It was a tough decision but the successful candidates were:
Head Boy – Amir Mesgari
Head Girl – Molly Allcock
Deputy Head Boy – Israel Adekoya & Oskar Popek
Deputy Head Girl – Jessica Jenkins
The Year 11 Prefects:
We are privileged to have a strong team of prefects who are also available to support the Academy. These prefects are visible by their black ties and their main responsibility this year is to support with the planning of fund raising days as well as their own year 11 prom.
Events/Important Year 11 Dates for this Year