Year 9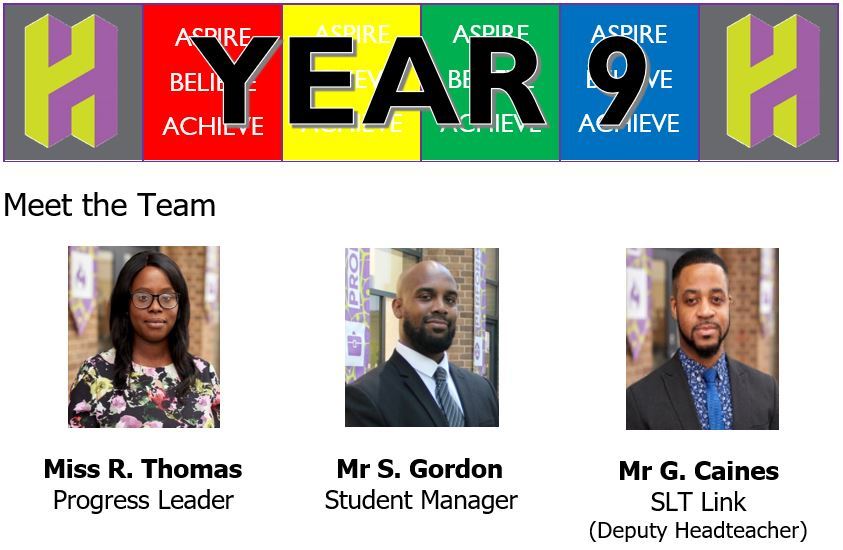 Contacting the Team
If you have any questions or concerns about your child, please don't hesitate to contact a member of the Year 8 team by leaving a message with Reception or by emailing our enquiry address with, for example, 'FAO Ms Thomas' as the subject.
We aim to respond to phone calls and emails as quickly as possible, and certainly within 48 hours. Please bear in mind that members of staff may have a day of teaching and may not be able to respond to non-urgent matters until the end of the Academy day or the following Academy day.
By telephone: 0121-464 2737 (main school switchboard)
By email: enquiry@harborneacademy.co.uk
Vision
As a Head of Year, it is my job to ensure that all students have the opportunities to reach their full potential in a safe and positive learning environment where students are supported physically, emotionally, and socially to enable them to thrive.
Within Year 9, students have opportunities to undertake activities outside of the curriculum to gain experiences and enhance skills. We will focus on embedding and developing the skills and work ethic that will enable all pupils to flourish and succeed over the next three years at Harborne Academy providing them with the best chance of reaching beyond their targets.
Year 9 is a very important year for our students with them choosing their options. With the support of our Careers Advisor and knowledgeable staff, we offer the support, guidance and advice needed for students to make the best choices to successfully move into KS4 in year 10.
Ms Thomas
Year 9 Inspirational Quotes
"The roots of education are bitter, but the fruit is sweet." – Aristotle
"Education is the passport to the future, for tomorrow belongs to those who prepare for it today." Malcolm X
"The only person who is educated is the one who has learned how to learn …and change."
Carl Rogers