Year 10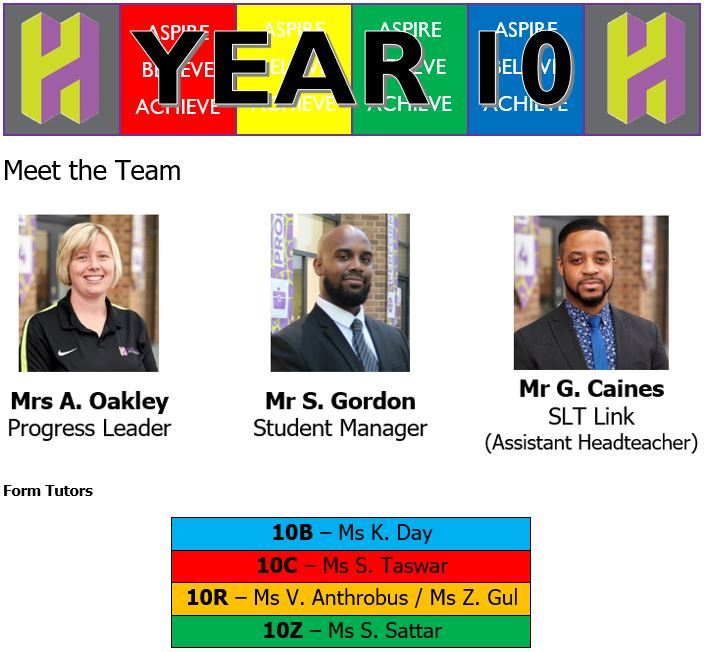 Contacting the Team
If you have any questions or concerns about your child, please don't hesitate to contact a member of the Year 10 team by leaving a message with Reception or by emailing our enquiry address with, for example, 'FAO Mrs Oakley' as the subject.
We aim to respond to phone calls & emails as quickly as possible, & certainly within 48 hours. Please bear in mind that members of staff may have a day of teaching & may not be able to respond to non-urgent matters until the end of the Academy day or the following Academy day.
By telephone: 0121-464 2737 (main school switchboard)
By email: enquiry@harborneacademy.co.uk
Vision
As Progress Leader, my main focus is to support and guide the students on their journey to outstanding results and opportunities. Having witnessed the excellent progress that the cohort have made since Year 9, I expect students to continue to approach their studies with maturity as Harborne provides Exceptional Provision for Exceptional Learners.
Year 10 students understand the importance of education, success and achievement and are starting to take ownership of their learning. The behaviour, achievement and progress of the year group are closely monitored by myself (Progress Leader for Year 10), Mr Caines (SLT Link) and Mr Gordon (Student Manager), as well as a dedicated tutor team. We are supported in our work by all the subject teachers and other staff within the school. Students who display exceptional work-ethic and effort are rewarded regularly.
Year 10 students are able to apply for the role of prefect and be allowed to wear a prefect tie. This responsibility encourages students to have a say in the life of the school through regular Student Council meetings with the Head teacher to discuss various aspects of school life. Prefects are seen as role models in the school and will also perform break or lunch time duties in order to support the school's ethos.
Form Tutors have established good positive rapport with students throughout year 9, which enables students to engage in the form time programme.
Myself and the team work at instilling the Academy's 4Ps (pride, passion, professionalism and performance) in all students so that they can fulfil the Academy motto – 'aspire, believe, achieve'.
Mrs Oakley
Year 10 Inspirational Quotes
"I never could have done what I have done without the habits of punctuality, order and diligence, without the determination to concentrate myself on one subject at a time" – Charles Dickens
"You have to think anyway, so why not think big?" – Donald Trump
"Nothing is impossible, the word itself says 'I'm Possible!'" – Audrey Hepburn
Attendance & Punctuality
At Harborne Academy we expect students to be present in school every day. They should only be off school if they are very ill. A cough or cold is not a reason to not attend school. We are happy to offer support to overcome barriers to good attendance, please contact Miss Malpass if you have any concerns.
Attendance figure

Year 10

Whole School

This academic year

(This table will be populated at the end of each half term.)

Last half term
Year 10 Student Voice
Pastoral Student Voice Results (Summer Term 2019)
| | | | | |
| --- | --- | --- | --- | --- |
| Question | Strongly agree | Agree | Disagree | Strongly disagree |
| I enjoy coming to school. | 0% | 100% | 0% | 0% |
| I feel safe & happy at school. | 53% | 47% | 0% | 0% |
| I know where to go in school if I need to talk. | 80% | 20% | 0% | 0% |
| Bullying is rare at Harborne Academy & when it does happen, it's dealt with quickly. | 40% | 53% | 7% | 0% |
| Staff treat all students equally regardless of their sex, gender identity, race, religion, sexual orientation or disability. | 67% | 33% | 0% | 0% |
| The school teaches me how to keep healthy. | 47% | 53% | 0% | 0% |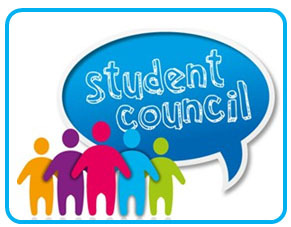 Student Council Representatives
The Student Council meets with Senior Leaders of the School on a weekly basis to share suggestions, questions & concerns with them. Students are encouraged to share their ideas with the representatives for their year group.
The Year 10 Prefects are: Alhagi, Idil, Israel, Molly, Omar, Oskar, Rachael, Ria, Tyler & Virgil
Events/Important Year 10 Dates for this Year
| | |
| --- | --- |
| Date | Event |
| 26/09/2019 | International Languages Day |
| 10/2019 | The Big Draw |
| 03/10/2019 | National Poetry Day |
| 18/10/2019 | Charity Non-Uniform Day |
| 24/10/2019 | Y10 reports issued |
| 15/11/2019 | PSHE Day 1 – Health & Wellbeing |
| w/c 18/11/2019 | Student Pastoral Voice Survey |
| w/c 16/12/2019 | 100% attendance celebration |
| 19/12/2019 | Y10 reports issued |
| 15/01/2020 | House Party |
Previous Events with Year 10
Big Physics Quiz 2019 Birmingham University
Wrote by one of our students -
''We headed out onto our long and less than amiable path. It was a pleasantly cold January morning, but we did not care for the cold, seeing as how were too busy exchanging our ideas on how the day would go and who would come out on top, which leads me very well to my next point.
My school was one of 40 that decided or rather were invited to take part in the competition. My classmates and I were (as is custom with teenagers looking to prove themselves the best at anything) ready for the challenge ahead and judged, rather biasedly, that there was no way we could do anything but come first, showing up everyone else and thus glorifying us in the history of our school.
When we eventually got to our destination, we were greeted by the shadow of a rather large and rather eye-catching clock tower. We walked right underneath the great structure and decided that we should take a picture ahead of the start of the quiz. After a few failed photo shoots, and a couple of minutes waiting for the sun to show its beautiful beaming face again, we finally settled on a picture on the steps to the reception of the university.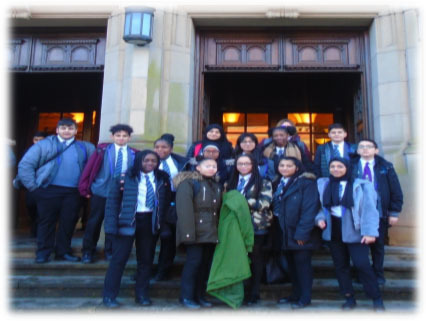 Walking into the main room, we were almost instantaneously struck by the rain bowed grace of the stained glass that was situated at the front and centre of the great hall. Our seats were shown to us and one after one, our would-be opponents slowly filed into the hall as we completed a word search to pass the time. After everyone sat comfortably, we were introduced to the professors who would be hosting the competition. We sat in anticipation as they said their names and professions and got our pens ready for the challenge ahead.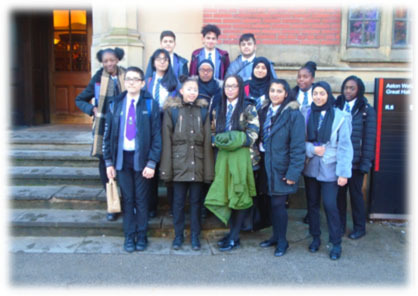 Throughout the rest of the day, we went through a range of topics from energy and famous science celebrities to a lecture about a certain device called the Antikythera Mechanism and the eventually break where we hungrily wolfed down our provisions. After this small feast and stroll, we were welcomed back to two more quizzes and then waited whilst the winners of the quiz were called out. We did not win but we didn't really care after all, we just had an amazing day of laughter and also managed to learn a lot in the process and for that, I thank the University of Birmingham. We are still winners because were in 5th position from a total of 40 schools!"
TSA Mentoring Graduation
This year a small group of students were selected to be part of a mentoring course that supports ensuring all students achieve their full potential through the use of sport. They had both classroom and practical sessions with their mentors over a 12 week period. They then were able to take part in a graduation ceremony at Edgbaston Cricket Ground with a tour of the ground. Once this had finished they played an indoor tournament against the other participating school and managed to finish 3rd overall!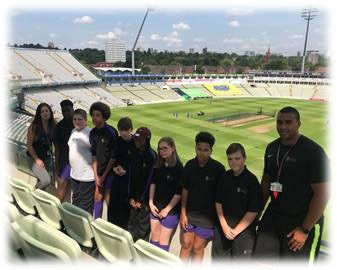 Girls' Self Esteem Workshop
Last year, some of the Year Group's girls had the opportunity to take part in a workshop to build self-esteem and confidence within their education. This was led by students from the University of Birmingham and was very successful. Each week they had a different topic of discussion and was able to share their own experiences and challenges.

Birmingham Schools' Games Table Tennis Tournament
Some of our talented boys went to represent the school in the Birmingham Schools Games Table Tennis Tournament at Kings Heath Boys School. They did very well and won some of their games and was able to place third but unfortunately missed out on qualifying for the finals.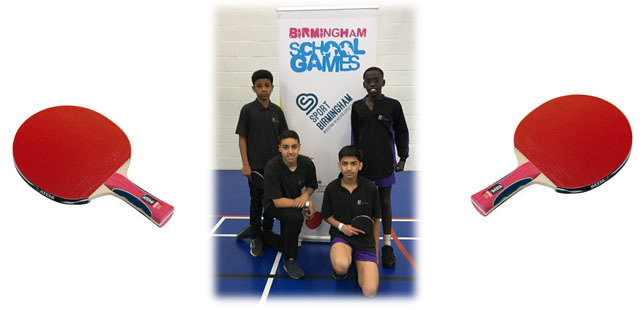 World Book Day
This year, Harborne Academy staff and students celebrated their biggest and certainly best ever World Book Day with a number of wonderful activities and events taking place. From our Big Booky Breakfast, to poets, cartoonists and even a staff and student fancy dress competition, we hope the day provided our students with a reminder of how books inspire us.

Red Nose Day 2019
The student council were asked to come up with some fundraising ideas for Red Nose Day, these included a campaign to 'Soak the Teacher'! Much to the students delight, the Progress Leader and SLT link for each year group were nominated and on Red Nose Day the students and staff had until lunch time to add their money to the cause, the staff who received the most donations were soaked by the students!