Year 10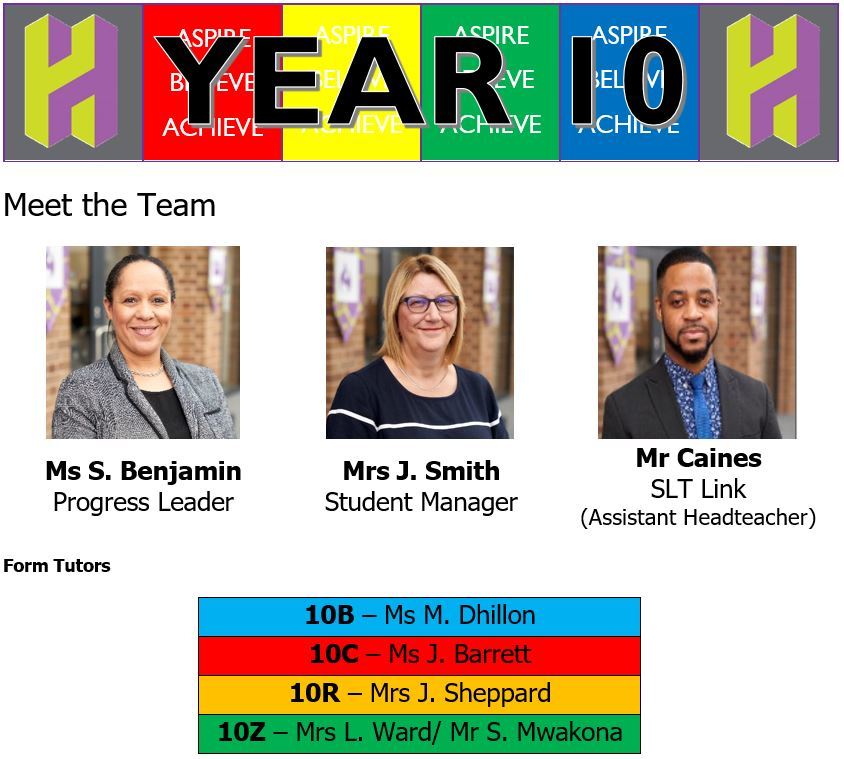 Contacting the Team
If you have any questions or concerns about your child, please don't hesitate to contact a member of the Year 10 team by leaving a message with Reception or by emailing our enquiry address with, for example, 'FAO Ms Benjamin' as the subject.
We aim to respond to phone calls & emails as quickly as possible, & certainly within 48 hours. Please bear in mind that members of staff may have a day of teaching & may not be able to respond to non-urgent matters until the end of the Academy day or the following Academy day.
By telephone: 0121-464 2737 (main school switchboard)
By email: enquiry@harborneacademy.co.uk
Vision
In Year 10 our students are about to take their first step towards GCSE, building vital foundations for success at Key Stage 4; it is therefore going to be a vital year our students.
As a team we strive to support all pupils to make sure that they get off to a positive start right from the beginning of the year as they embark on their option subjects; with a view to fulfilling their potential in their newly chosen subjects and continue to work hard in all core subjects over this year.
We will focus on embedding and developing the skills and work ethic that will enable all pupils to flourish and succeed over the next three years at Harborne Academy providing them with the best chance of reaching above and beyond their targets.
Not only is it vital to us that your child reaches their academic potential, we will also focus beyond the classroom, in order to ensure that their experience at Harborne Academy leaves them enriched and informed about wider life and culture outside of the school. The aim is to help them to develop into responsible, caring and happy citizens who are able and willing to make positive contributions to wider society. We aim to focus on providing opportunities for students to show leadership and responsibility skills, including trips and career events to help them focus on where, and who they want to be in the future.
Our priority is to ensure that all pupils enjoy school life, achieve the best levels they can and experience a variety of activities and events to enrich their lives, now and in the future.
Ms Benjamin
Year 10 Inspirational Quotes
"Nothing will work unless you do." Maya Angelou
"A person who never made a mistake never tried anything new." Albert Einstein
"Let us make our future now, and let us make our dreams tomorrow's reality." Malala Yousafzai
Attendance & Punctuality
At Harborne Academy we expect students to be present in school every day. They should only be off school if they are very ill. A cough or cold is not a reason to not attend school. We are happy to offer support to overcome barriers to good attendance, please contact Miss Benjamin if you have any concerns.
Year 10 Student Voice
Pastoral Student Voice Results (Autumn Term 2020-2021)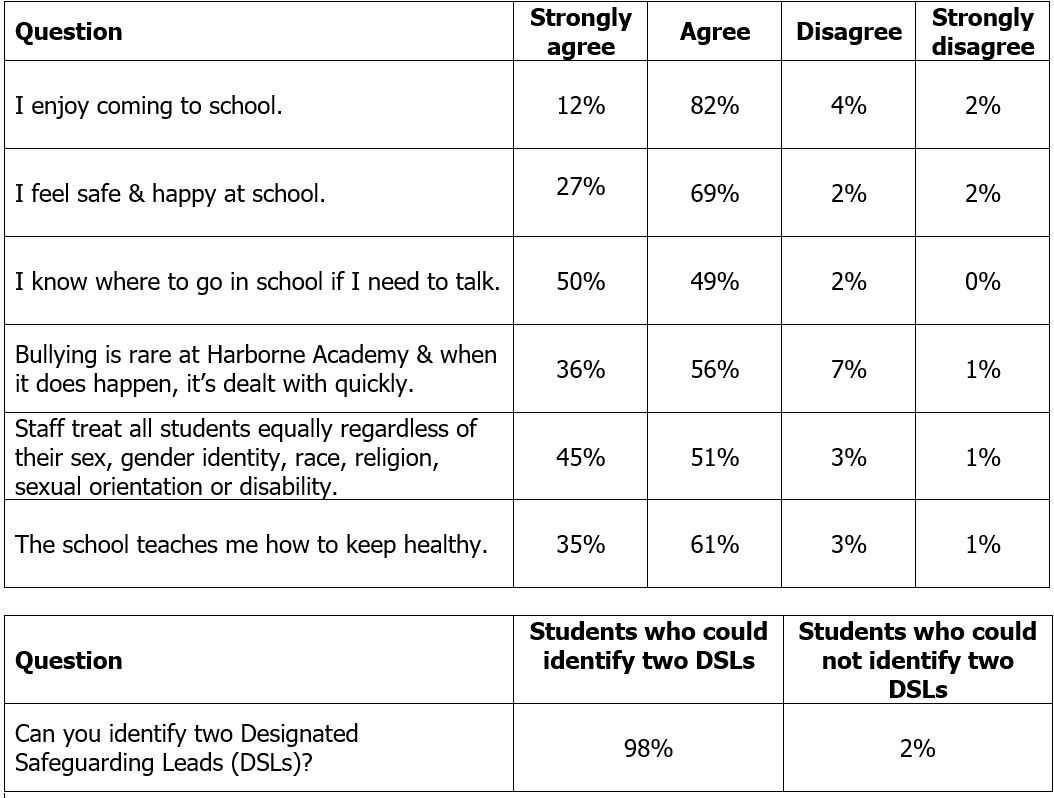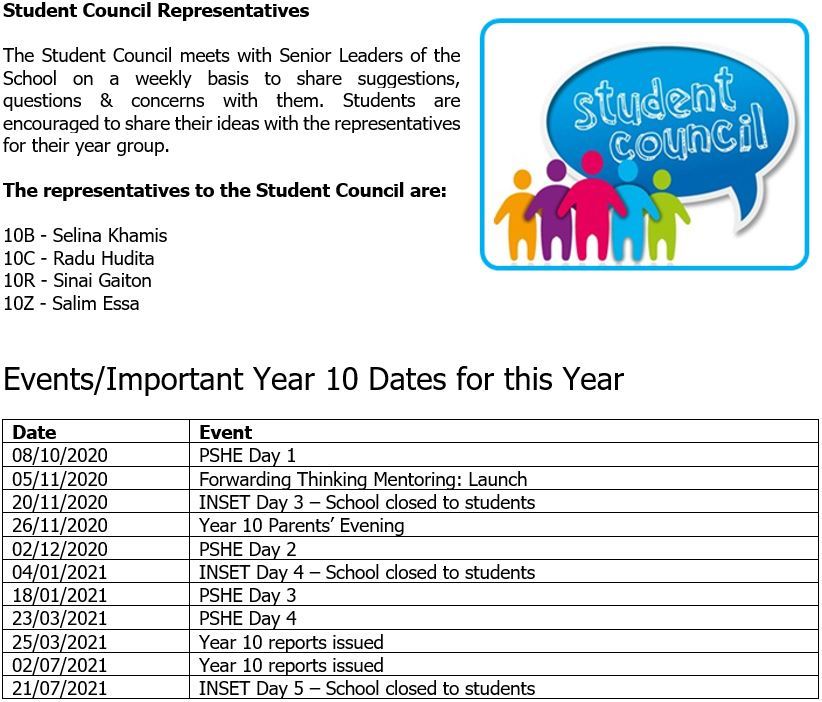 Year 9 are continuing the Forward Thinking Programme in partnership with Birmingham University. Forward Thinking is a progressive programme of activities for students from Year 8 through to Year 11. Having completed the first part of the programme in year 8, on Thursday 19th September 2019 the same students completed a university taster day at Birmingham University. During this time they were able to experience university style seminars in a variety of subjects and included Engineering and American Literature. This was to open their minds to the myriad of possibilities available to them when applying for university course.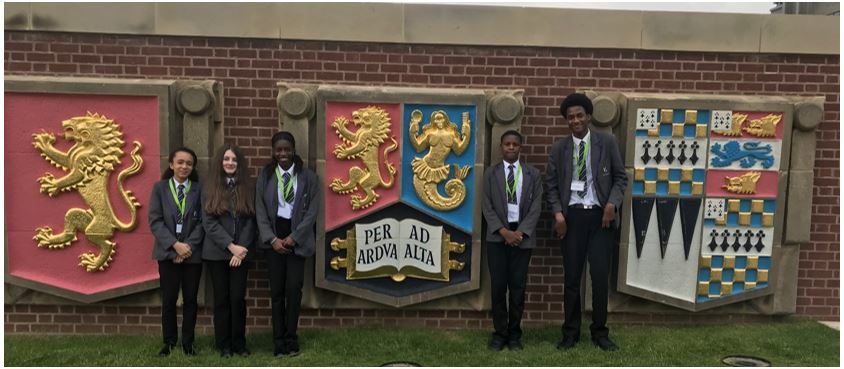 "It was a great day, it was really exciting to experience the Engineering workshop, it was really interesting and has made me think that this may be an option for me to study in the future" Year 9 student.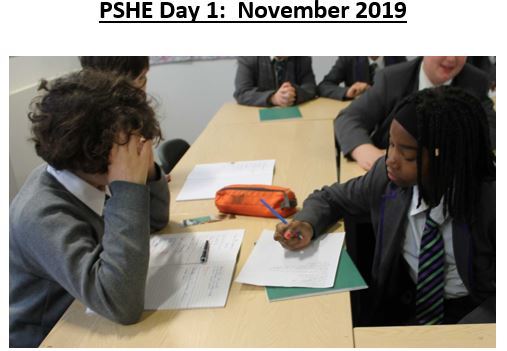 Year 9 students took part in their first PSHE day of the year taking part in a wide range of activities.
The day was a great success activities included:
West Midlands Police delivering a workshop on drugs/ alcohol and the law.
Team Building exercise in order to improve communication skills
Exploitation workshop aimed at showing students how to stay safe from sexual exploitation and a visiting speaker form the Soroptimist International delivering a captivating assembly on Healthy relationships.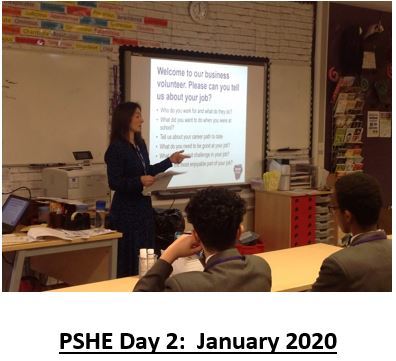 Another information and fun packed day for Year 9 students, who took part in a variety of workshops. The day was a great success activities included:
West Midlands Police delivering a workshop knife crime, West Midlands Fire Service: Safety and a careers workshop.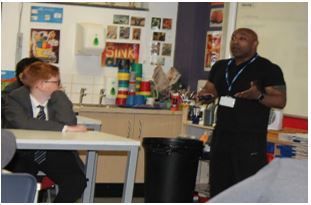 Year 9 also saw a fantastic interactive performance by Loudmouth Educational Theatre Company, who in collaboration with Umbrella, delivered a performance and hot-seating session on the theme of sexual health and relationships.