Art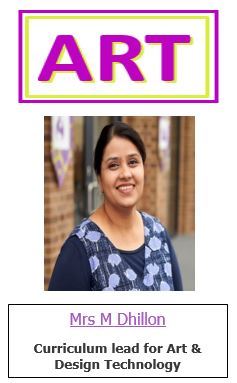 Contacting the department
If you have any questions or concerns about your child, please don't hesitate to contact a member of the Art department by leaving a message with Reception or by emailing our enquiry address.
We aim to respond to phone calls and emails as quickly as possible, and certainly within 48 hours. Please bear in mind that members of staff may have a day of teaching and may not be able to respond to non-urgent matters until the end of the Academy day or the following Academy day.
By telephone: 0121-464 2737 (main school switchboard)
By email: enquiry@harborneacademy.co.uk
Key Stage 3 Art
All students in KS3 receive 1 hour of Art per week. Pupils' abilities are baseline tested using a range of artistic experimentation, creating with a range of techniques.
Pupils are initially taught about Colour Theory and 'Pop Art'. This will allow students to develop and embed their colour theory knowledge throughout Key Stage 3.
As students' progress, we build upon their prior knowledge, but also work towards acquiring new skills. Particular emphasis is placed on art history and artist/cultural research, allowing students to learn and make sense of the world around them by analysing and evaluating the way artists and designers have throughout history. Students are taught a range of drawing and painting skills; they are encouraged to draw from observation, use a variety of techniques and practise with other materials.
Towards the end of Key Stage 3, pupils will have the opportunity to attempt more craft-based skills such as printmaking, textiles and 3D crafts. Our aim is to promote enthusiasm for the study of Art by exposing students to a range of contexts, strategies, processes and materials, scaffolding their understanding and practical skills and promoting their personal attainment.
In Year 9, students will have the opportunity to select Art at GCSE as they progress into Year 10 - a popular choice amongst many students. GCSE Art allows individuals to unleash their imagination in a variety of artistic mediums, for example, painting, drawing, sculpture and photography.
KS4 Art– Year 10 & 11
Art and Design exam information:
Qualification & Level
GCSE –9-1
Assessment
60% coursework 40% exam
Board
AQA ART AND DESIGN.
GCSE Art
Students who opt for GCSE Art & Design-build on the knowledge, skills and understanding established in Key Stage 3. The course is designed to encourage students to develop skills, creativity, imagination and independence. Students will experience a wide range of approaches in the use of materials, processes and techniques, responding to guidelines and potential outcomes.
Creativity is at the heart of the curriculum and students will learn about a wide range of art movements, artists and strategies for making. This course is popular amongst students who are keen to study a practical subject and explore individual creative ideas and styles.
Component 1 requires pupils to produce work based on a theme, starting point or brief set by the school (60%).
Component 2 is a set task from the exam board that requires pupils to choose a starting point from a list and prepare work over a number of weeks, resulting in a final idea, produced within 10 hours set exam time (40%). Pupils produce work within a number of areas, developing skills in different media and techniques, allowing them to create work that suits their ability and preference.

Overall Year Plan: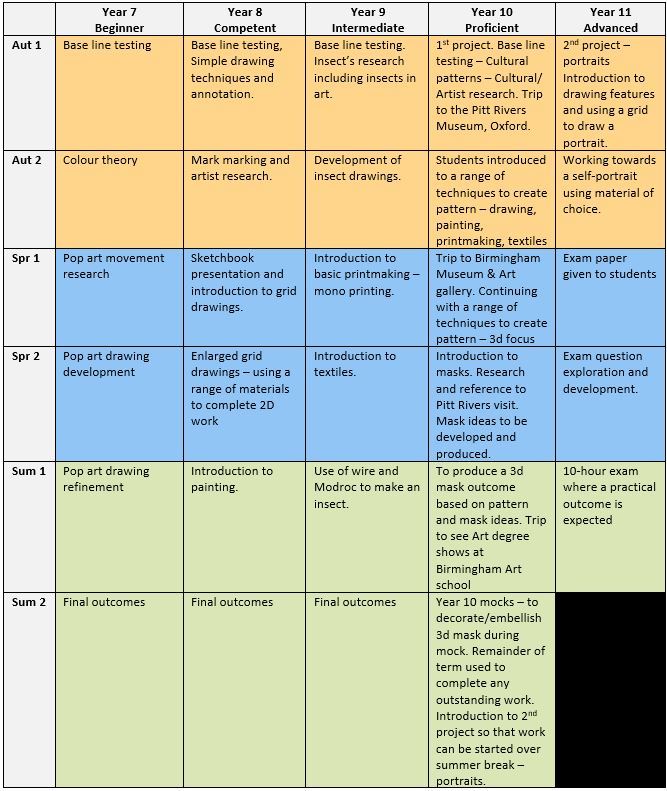 Enrichment opportunities:
Trip to the Pitt Rivers Museum in Oxford to research Masks and cultural artefacts.
Trip to Birmingham Museum & Art Gallery to gather information on the Arts & Crafts collection in preparation for 3D focus.
Student masterclasses, external tutor brought in to deliver a workshop to students so a new skill can be taught.
Art degree show visits to allow students the opportunity to see what an art degree can offer and possible career pathways.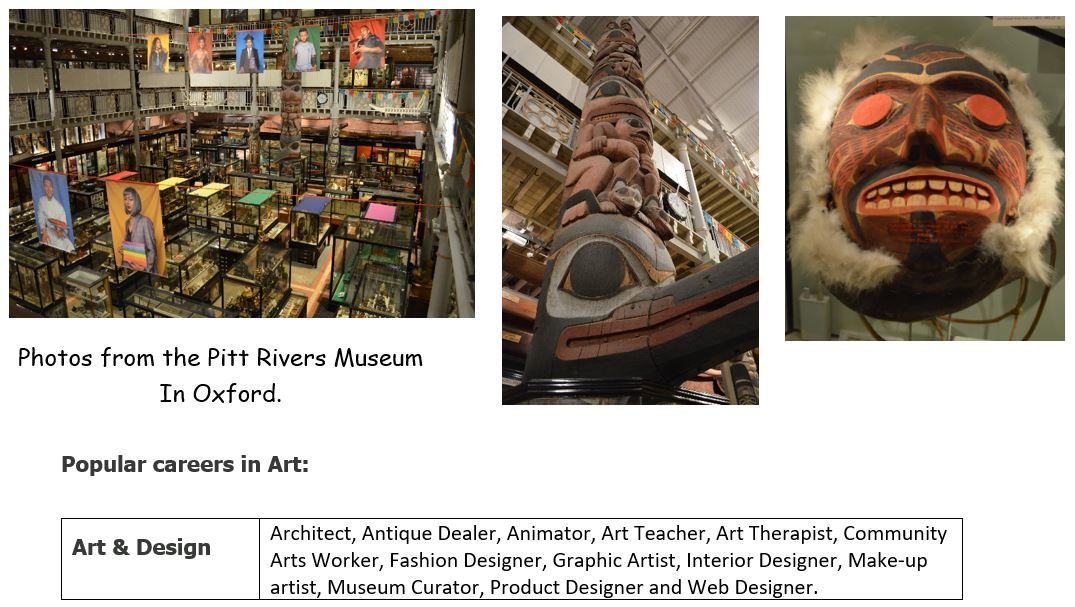 Useful websites:
http://www.studentartguide.com/
http://www.bbc.co.uk/schools/gcsebitesize/art/
https://www.pinterest.co.uk/explore/websites-for-artists/
27 Art Activities and Lessons to Try at Home - The Art of Education University
Links to past papers:
https://filestore.aqa.org.uk/sample-papers-and-mark-schemes/2018/june/AQA-8201X-QP-JUN18.PDF
https://filestore.aqa.org.uk/resources/art-and-design/AQA-8201-SQP.PDF