Year 7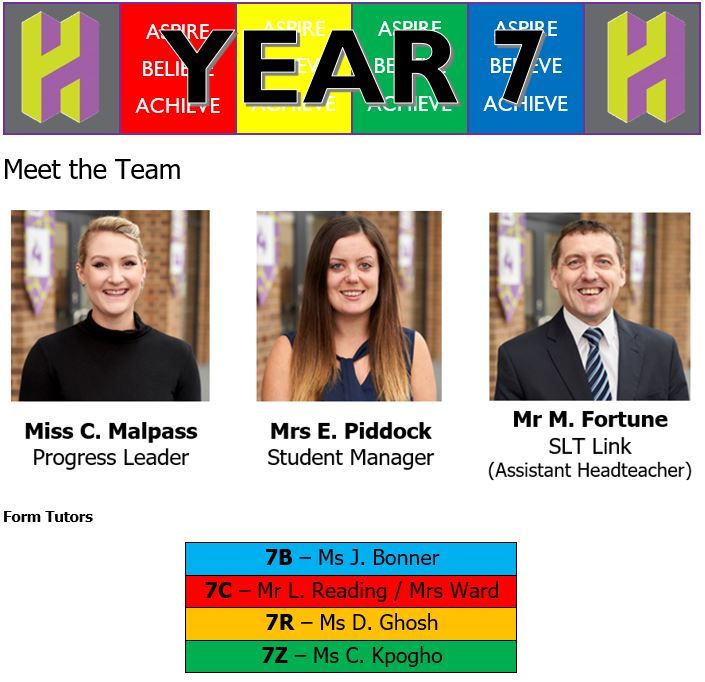 Contacting the Team
If you have any questions or concerns about your child, please don't hesitate to contact a member of the Year 7 team by leaving a message with Reception or by emailing our enquiry address with, for example, 'FAO Miss Malpass' as the subject.
We aim to respond to phone calls & emails as quickly as possible, & certainly within 48 hours. Please bear in mind that members of staff may have a day of teaching & may not be able to respond to non-urgent matters until the end of the Academy day or the following Academy day.
By telephone: 0121-464 2737 (main school switchboard)
By email: enquiry@harborneacademy.co.uk
Vision
In Year 7, we pride ourselves on the care and attention that we provide for our students. Transition is a nerve-racking time, for both students and parents, but at Harborne Academy, we work tirelessly to provide a smooth transition, with an outstanding provision, within our Year 7 Curriculum and Pastoral Team. Our students love coming to school which shows in our attendance. For the past two years, our Year 7 headline figure has been above national average whilst our recent student survey revealed that 100% of those asked either strongly agreed or agreed with the statement 'I enjoy coming to school'. With a variety of subjects, trips and experiences, Year 7 is certainly an exciting year with plenty for your child to look forward to. We look forward to welcoming your child to our Year 7 Harborne family.
Miss Malpass
Year 7 Inspirational Quotes
Our students are deeply proud of the school they attend – just see for yourselves:
"Harborne Academy is a place where you can always feel safe and welcome." Karina
"Year 7 is really fun. Our English Plus lessons are great because we have lots of art and history in our lessons. We have lots of nice people that you can get along with and there are lots of extra-curricular activities for you to do." Yimga
"Harborne Academy is a wonderful place. Every lesson you can participate in." Louise
"I think that, in Year 7, experience helps me develop creativity and gives me an opportunity to show my true colours." Isabelle
"PSHE day was a celebration for me!" Ammar
" I love the fact that in Year 7, I've got to go on so many different trips and studied different subjects." – Cosmin
"I think with Year 7 everything is fair and we are all welcomed in and supported. We are able to enjoy our lessons." – Robyn
Attendance & Punctuality
At Harborne Academy we expect students to be present in school every day. They should only be off school if they are very ill. A cough or cold is not a reason to not attend school. We are happy to offer support to overcome barriers to good attendance, please contact Miss Malpass if you have any concerns.
Year 7 Student Voice
Pastoral Student Voice Results
Question

Strongly agree

Agree

Disagree

Strongly disagree

I enjoy coming to school.

(Pastoral Voice Surveys take place three times per year – once per term. The current year 7 cohort will complete their first survey later this term. Please see web pages for the other year groups for results from the Summer Term 2019 results.)

I feel safe & happy at school.

I know where to go in school if I need to talk.

Bullying is rare at Harborne Academy & when it does happen, it's dealt with quickly.

Staff treat all students equally regardless of their sex, gender identity, race, religion, sexual orientation or disability.

The school teaches me how to keep healthy.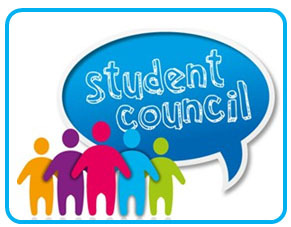 Student Council Representatives
The Student Council meets with Senior Leaders of the School on a weekly basis to share suggestions, questions & concerns with them. Students are encouraged to share their ideas with the representatives for their year group.
The representatives to the Student Council are:
Adam and Mekki
A few words from Adam:
It has been an honour to receive an education from Harborne Academy. I'm glad to have been given the chance to be a part of the student council. When I came to this school, I found myself nervous and anxious when there was no need to be. Now I'm not. It's not nerve wracking and I have gotten used to my new start.
I enjoy being a part of Harborne Academy because there are a range of nice and helpful teachers and all of the students are very friendly. I like the fact that Harborne Academy does not tolerate any bullying. This is because Harborne Academy is strict and mindful but there is a time and place where you can have fun and interact with other students in different ways.
When I got chosen to be part of the student council I was very proud and happy to be a part of such an amazing community and to make the school a better place for everyone.
Events/Important Year 7 Dates for this Year
| | |
| --- | --- |
| Date | Event |
| 27/09/2019 | Visiting poet – Matt Windle |
| 10/2019 | The Big Draw |
| 30/09/2019 | Anti-Bullying Ambassdor training |
| 03/10/2019 | National Poetry Day |
| 04/10/2019 | Visiting author – Safiya Ahmed |
| 10/10/2019 | Theatre visit – Private Peaceful |
| 18/10/2019 | Charity Non-Uniform Day |
| 24/10/2019 | Settlers' Evening for parents of year 7 students |
| 24/10/2019 | Y7 Cinema night |
| 25/10/2019 | Theatre visit – Circus 1903 |
| 11/11/2019 | Remembrance celebration |
| 11/11/2019 | Anti-Bullying Week |
| 15/11/2019 | PSHE Day 1 – Health & Wellbeing |
| w/c 18/11/2019 | Student Pastoral Voice Survey |
| 20/11/2019 | Billionaire Boy Theatre Trip EP Sets 3/4/5 |
| w/c 16/12/2019 | 100% attendance celebration |
| 19/12/2019 | Y7 reports issued |
| 15/01/2020 | House Party |
Previous Events with Last Year's Year 7
| | |
| --- | --- |
| Event | Description |
| Year 7 Remembrance Service | Students came together for a special Remembrance Service. |
| Black Country Museum | All students took a trip back in time to Victorian Britain at the Black Country Museum |
| Awful Auntie theatre trip | Some students attended a showing of David Walliams' Awful Auntie at The Alexandra Theatre in Birmingham |
| Christmas Concert | A range of performances from students and staff at Harborne Academy. |
| 100% Christmas Brunch | Students with 100% attendance attended a brunch with their Progress Leader and Attendance Officer with a film of their choice. |
| Valentine's Disco | Charity disco |
| World Book Day | Students were invited to attend school as their favourite book characters. |
| Science Fair | Students were able to access a range of scientific activities at lunch time |
| Linda Newbury | Author of 'Girls for the Vote' and 'Tilly's Promise' came in to talk about her books. |
| 100% attendance brunch | All students with 100% attended a brunch with their Progress Leader and Attendance Officer with a film of their choice. |
| RSPCA Debate and Debate Mate contest | Two groups of students headed out to debate hot topics during the school day. |
| Trench Brothers | Uniformed soldiers came to show students what trench life was like and brought along WW1 artefacts. |
| PSHE Day | A drop down day where students were off timetable to complete a range of workshops on healthy bodies and healthy minds. |
| Tom Palmer | Author of numerous historical/sport fiction books. |
| Belgium Trip | Students went on an overseas trip to Belgium and its war graves |
| Sports Day | Whole school sports day |
| Drayton Manor | A year group reward trip at the end of the summer term. |
| 100% Summer Brunch | Students with 100% attendance were taken for lunch on this day. |