Year 8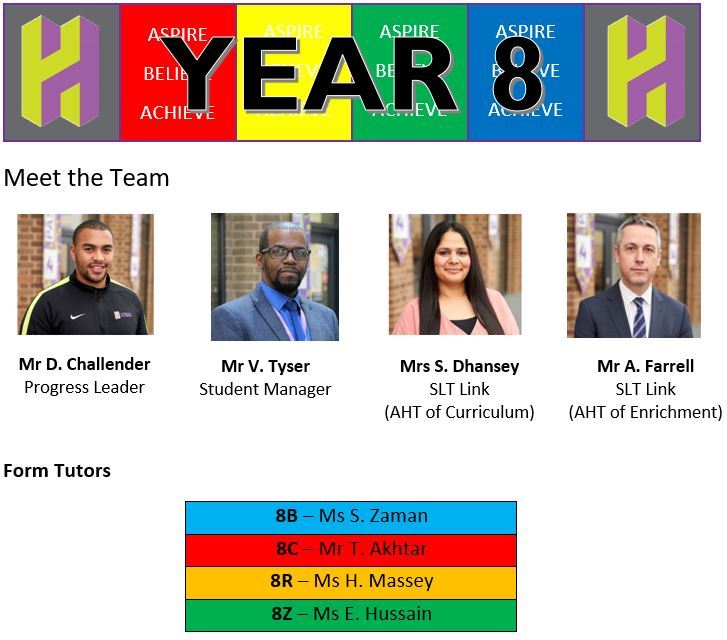 Contacting the Team
If you have any questions or concerns about your child, please don't hesitate to contact a member of the Year 8 team by leaving a message with Reception or by emailing our enquiry address with, for example, 'FAO Mr Challender' as the subject.
We aim to respond to phone calls & emails as quickly as possible, & certainly within 48 hours. Please bear in mind that members of staff may have a day of teaching & may not be able to respond to non-urgent matters until the end of the Academy day or the following Academy day.
By telephone: 0121-464 2737 (main school switchboard)
By email: enquiry@harborneAcademy.co.uk
Vision
Ensuring that all students have the opportunities to reach their full potential in a safe and positive learning environment. Also guaranteeing that student's feel valued and appreciated for their individual attributes and beliefs.
Year 8 is a very important Year for students with them choosing their options, so we want to offer the support and advice needed for students to make the best choices for them to develop. It is important that learners are provided with 'Exceptional Provision for Exceptional Students'. - Mr Challender
Year 8 Inspirational Quotes
"The best preparation for tomorrow is doing the best you can today." –
(H. Jackson Brown, Jr.)
"Make your life a masterpiece; imagine no limitations on what you can be, have or do." – (Brian Tracy)
"There is no limit to what we, as women, can accomplish" – (Michelle Obama)
"Each person must live their life as a model for others" – (Rosa Parks)
Attendance & Punctuality
At Harborne Academy we expect students to be present in school every day. They should only be off school if they are very ill. A cough or cold is not a reason to be absent from school. We are happy to offer support to overcome barriers to good attendance, please contact Mr Challender if you have any concerns.
Year 8 Student Voice
Pastoral Student Voice Results (Autumn)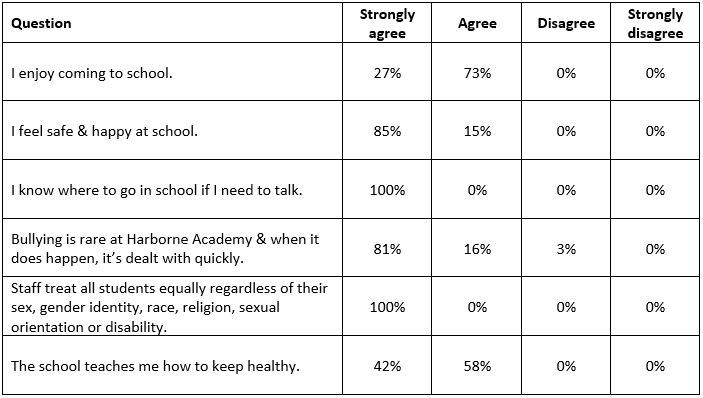 Student Council Representatives
The Student Council meets with Senior Leaders of the School on a weekly basis to share suggestions, questions & concerns with them. Students are encouraged to share their ideas with the representatives for their Year group.
The representatives to the Student Council are: Aliyah, Azlan, Ranya & William

Events/Important Year 8 Dates for this Year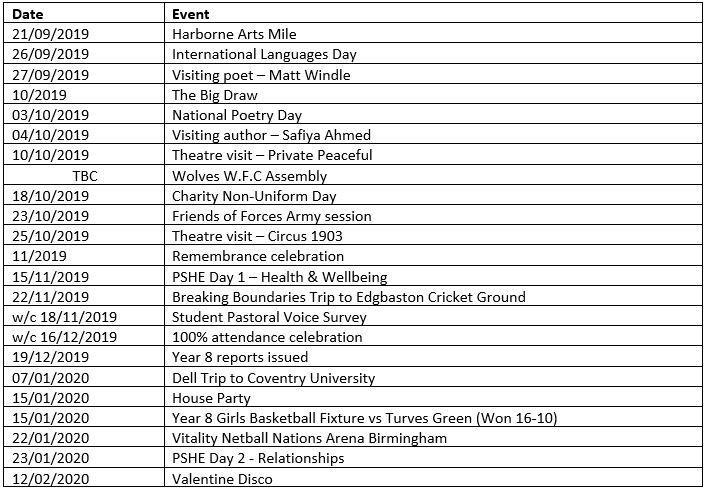 Previous Events with Year 8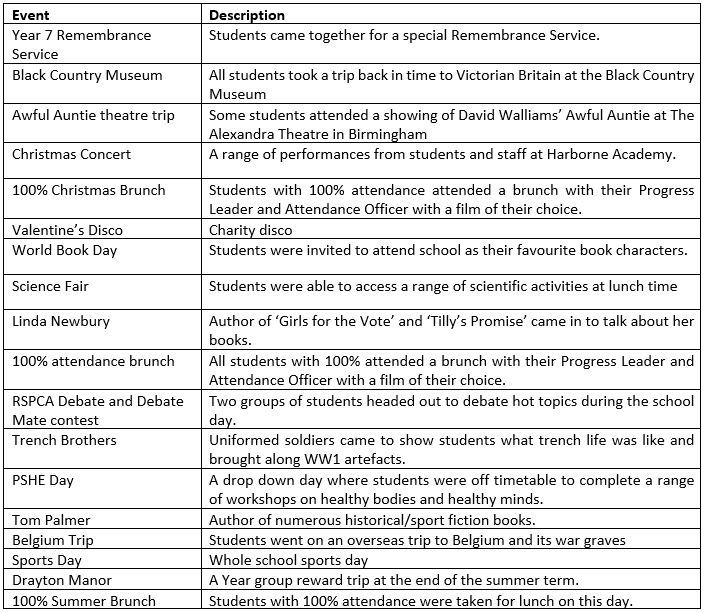 PSHE Day 1
Our Students took part in a variety of workshops for our first PSHE Day which was focused on 'Health and Wellbeing'. All students really enjoyed the day and took part in a forced marriage session, 'Bin It' recycling session, Cotteridge Foodbank and a Safer Travel workshop from West Midlands Police.

Royal Navy Workshop
All of our Year 8 students took part in a Royal Navy workshop. They were learning the qualities and skills that are required to join the Navy. Also students had the opportunity to look at how to escape from a submarine. All students really enjoyed this session as you can see below and took part in leading marches for the rest of the class.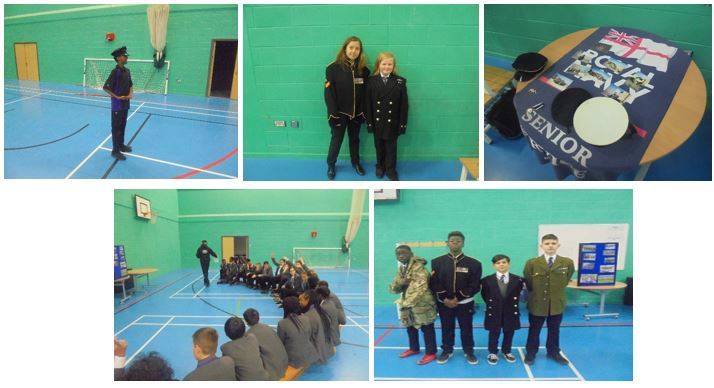 Coventry University – Dell Trip
Some of our Year 7 and 8 students went to Coventry University to be part of a Dell workshop. This was a really good insight for the students to see what University life is like and the facilities offered. In the afternoon they were split into groups and had to come up with their own business plans with the use of technology. Well done to our Year 8 group who won the competition with a robot to help the elderly with their daily routines and making life easier.

PSHE Day 2
Our Students had their second PSHE Day which was focused on 'Relationships'. The students had the opportunity to be part of some brilliant workshops. Some of these were a musical performance from KZie and ElaniC looking at British Values and Discrimination, Healthy Relationships, Anti-Gambling, Building Self-Esteem, TSA and Influence of Others from a West Midlands Police lived experience trainer.


Netball Nations Cup
Our students went to watch the Netball Nations Cup 2020 at the Arena Birmingham. This was a brilliant atmosphere where the students were able to see England vs South Africa and New Zealand vs Jamaica.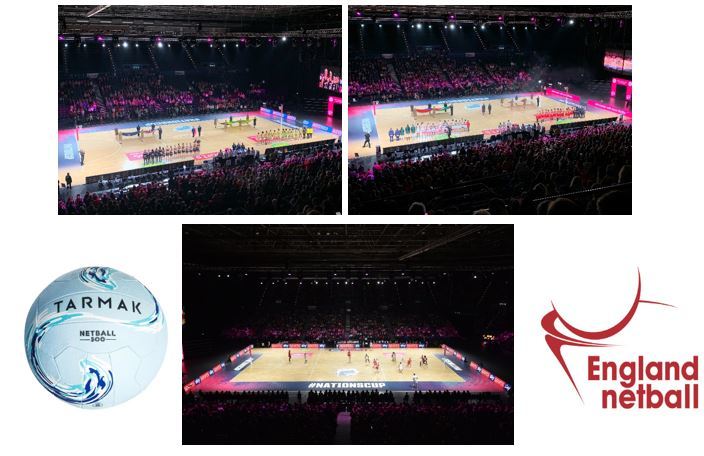 Arts Mile
On Saturday 21st September, Year 8 students attended Harborne's Artsmile, a free, home-grown arts event, along the Harborne High Street's, in cafes, bars and shops. Students arrived at the Slug and Lettuce for the soft opening of the event, which hosted a rousing performance from Midland Opera, singing from Verdi's La Traviata. The group then tried a variety of craft activities including: making their own mosaic coasters in The Junction; using recycled T-shirt yarn to create tassels and pom poms at Boo Boo Coffee and popping into Hadleigh Estate Agents to visit Mikey 'TheArtyOne' who drew humorous caricatures of all the students to take away.

14 students were selected to be part of the Breaking Boundaries Programme. This was focused on inspiring females and empowerment through sport. The students had inspirational talks from Laura Mcleod the Head of Edgbaston Foundation Women and Girls Cricket Division also Ex International athlete. May Rezai a medical researcher who at age 13 left Afghanistan to come to the United Kingdom and is currently doing ground breaking research in medicine. They also were able to meet Preet Gill the Edgbaston MP.

International Women's Day
Two of our Year 8 students Aliyah and Zahraa supported the planning and delivery on an assembly on International Women's Day alongside Ms. Taswar. The assembly looked at some of the history in Women's Rights, Gender Gaps and the Importance of Gender Equality. Students then had the opportunity to reflect what their ideal future would be and how they can help this happen.