Year 8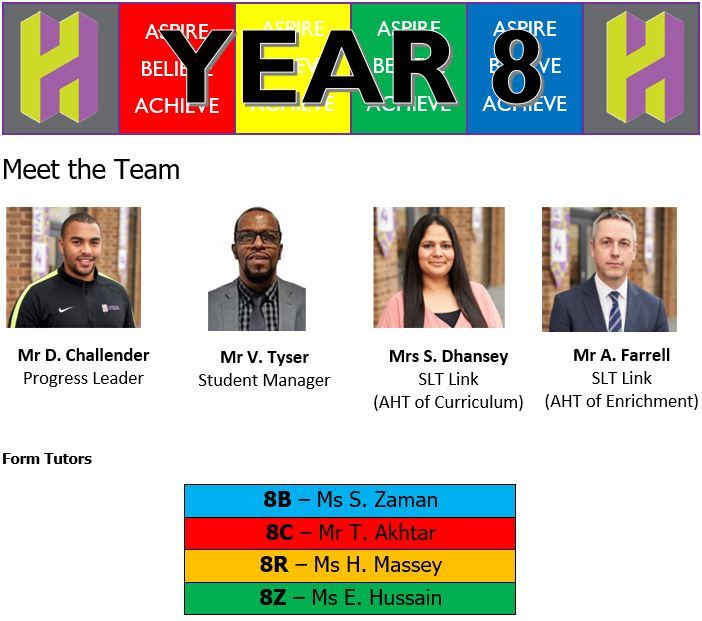 Contacting the Team
If you have any questions or concerns about your child, please don't hesitate to contact a member of the Year 8 team by leaving a message with Reception or by emailing our enquiry address with, for example, 'FAO Mr Challender' as the subject.
We aim to respond to phone calls and emails as quickly as possible, and certainly within 48 hours. Please bear in mind that members of staff may have a day of teaching and may not be able to respond to non-urgent matters until the end of the Academy day or the following Academy day.
By telephone: 0121-464 2737 (main school switchboard)
By email: enquiry@harborneacademy.co.uk
Vision
Ensuring that all students have the opportunities to reach their full potential in a safe and positive learning environment. Also guaranteeing that student's feel valued and appreciated for their individual attributes and beliefs.
Year 8 is a very important year for students with them choosing their options, so we want to offer the support and advice needed for students to make the best choices for them to develop. It is important that learners are provided with 'Exceptional Provision for Exceptional Students'.
- Mr Challender
Year 8 Inspirational Quotes
"The best preparation for tomorrow is doing the best you can today." – (H. Jackson Brown, Jr.)
"Make your life a masterpiece; imagine no limitations on what you can be, have or do." – (Brian Tracy)
"There is no limit to what we, as women, can accomplish" – (Michelle Obama)
"Each person must live their life as a model for others" – (Rosa Parks)
Attendance and Punctuality
At Harborne Academy we expect students to be present in school every day. They should only be off school if they are very ill. A cough or cold is not a reason to be absent from school. We are happy to offer support to overcome barriers to good attendance, please contact Mr Challender if you have any concerns.

Year 8 Student Voice
Pastoral Student Voice Results (Autumn)
Student Council Representatives
The Student Council meets with Senior Leaders of the School on a weekly basis to share suggestions, questions and concerns with them. Students are encouraged to share their ideas with the representatives for their year group.
The representatives to the Student Council are: Aliyah, Azlan, Ranya and William

Events/Important Year 8 Dates for this Year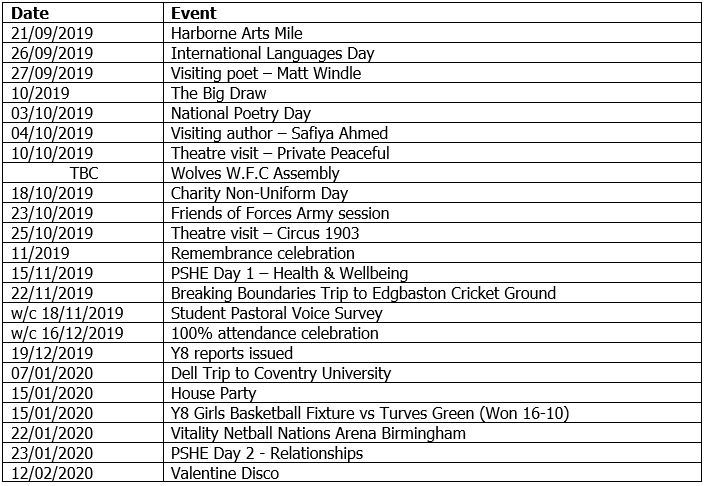 Previous Events with Year 8