Year 8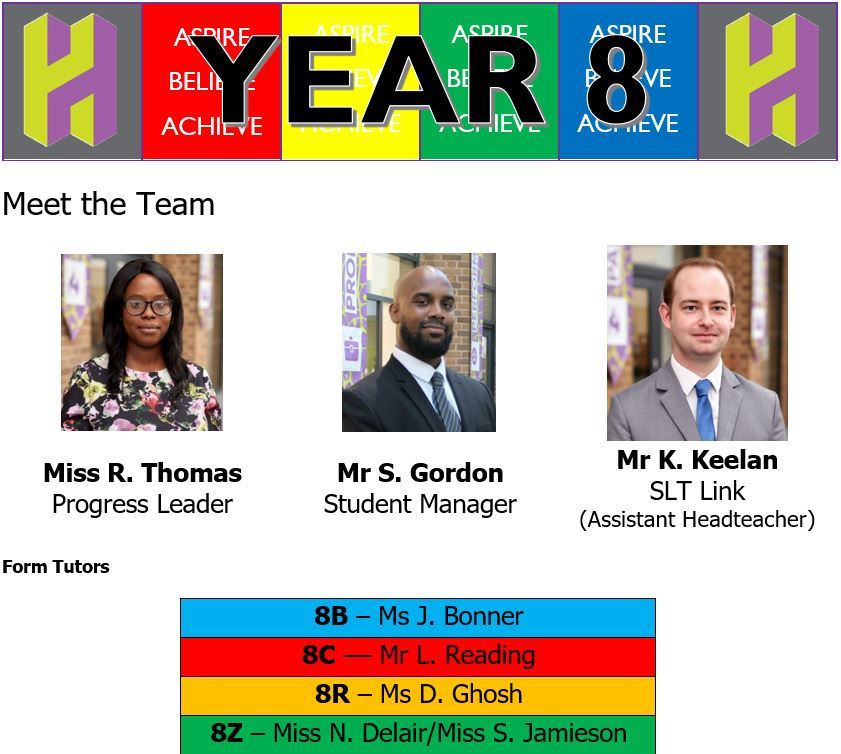 Contacting the Team
If you have any questions or concerns about your child, please don't hesitate to contact a member of the Year 8 team by leaving a message with Reception or by emailing our enquiry address with, for example, 'FAO Ms Thomas' as the subject.
We aim to respond to phone calls & emails as quickly as possible, & certainly within 48 hours. Please bear in mind that members of staff may have a day of teaching & may not be able to respond to non-urgent matters until the end of the Academy day or the following Academy day.
By telephone: 0121-464 2737 (main school switchboard)
By email: enquiry@harborneacademy.co.uk
Vision
As a Progress Leader, it is my job to ensure that all students have the opportunities to reach their full potential in a safe and positive learning environment where students are supported physically, emotionally, and socially to enable them to thrive.
Within Year 8, students have opportunities to undertake activities outside of the curriculum to gain experiences and enhance skills.
Year 8 is a very important year for students in providing the knowledge needed to expand in year 9 towards their GCSEs. The foundations provided in KS3 enable students to excel in KS4 years. At Harborne we believe that we provide 'Exceptional Provision for Exceptional Students'.
Ms Thomas
Year 8 Inspirational Quotes
"The roots of education are bitter, but the fruit is sweet." – Aristotle
"Education is the passport to the future, for tomorrow belongs to those who prepare for it today." Malcolm X
"The only person who is educated is the one who has learned how to learn …and change."Carl Rogers

Year 8 Student Voice
Pastoral Student Voice Results (Autumn Term 2020-2021)