Year 11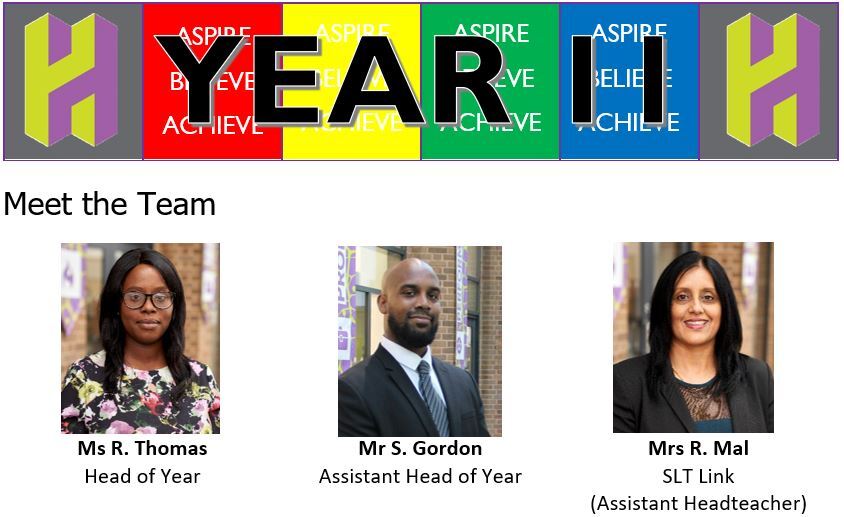 Form Tutors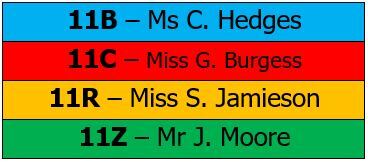 Contacting the Team
If you have any questions or concerns about your child, please don't hesitate to contact a member of the Year 11 team by leaving a message with Reception or by emailing our enquiry address with, for example, 'FAO Ms Thomas' as the subject.
We aim to respond to phone calls & emails as quickly as possible, & certainly within 48 hours. Please bear in mind that members of staff may have a day of teaching & may not be able to respond to non-urgent matters until the end of the Academy day or the following Academy day.
By telephone: 0121-464 2737 (main school switchboard)
By email: enquiry@harborneacademy.co.uk
Vision
I am incredibly excited to continue my role of Head of Year with my current students going into Year 11. This will be my 4th consecutive year with them and their final year at secondary school that prepares students for GCSEs & their next steps to further education.
Having witnessed the excellent progression that the cohort has made since Year 8, We expect students to keep trying, improving, and never give up, as there is still time to achieve their goals.
During this time, my team understands the support needed to tackle the pressures, challenges, and emotions associated with mocks, GCSEs, applying for the next steps, and being ready to become semi-independent adolescent teens. This is why regular careers meetings, PSHE days to address stress & anxiety, and interventions that concentrate on the best ways to revise & retain information have all been built into the curriculum for the support of the students. Along with assemblies that are tailored to allow students to understand what routes are available to them in further education and how those routes can be tailored to their needs. We continue to work towards helping our students to build and gain the skills they need to overcome and address all obstacles.
Attendance & punctuality have been proven to increase results for students. Being at school and being ready to learn helps to make progress in a child's learning. It's vital for parents/ carers to engage more to support students and staff to help motivate their children.
After all the exams are over, I am so looking forward to celebrating with Year 11 at their leaving assembly & prom knowing that as a team we have worked tirelessly to ensure that all students have been given the opportunity to thrive through their school life. Thanks to the high-quality teaching, enrichment & activities to promote learning that has been provided to them. At the end of the year, we will not be saying goodbye but, well done, keep in touch & we are proud of you.
Ms Thomas
Home Learning & Revision
To support your child with home learning & revision – click here
Careers
In Year 11, students will have several careers meetings with Mrs Fawkes discussing next steps into further education and aspirations of students. Click here for our careers page.
Year 11 Inspirational Quotes
"Nothing will work unless you do." Maya Angelou
"Success consists of going from failure to failure without loss of enthusiasm." Winston Churchill
"Your time is limited, don't waste it living someone else's life. Don't be trapped by dogma, which is living the result of other people's thinking. Don't let the noise of other's opinion drowned your own inner voice. And most important, have the courage to follow your heart and intuition, they somehow already know what you truly want to become. Everything else is secondary." Steve Jobs
Head Students 2023

Student Council
The Student Council meets with Senior Leaders of the School on a weekly basis to share suggestions, questions & concerns with them. Students are encouraged to share their ideas with the representatives of their year group.
The representatives of the Student Council are:
To be announced.
Extra Curriculum Intervention


*If you would like your child to be invited, please speak to the Year 11 team
** More intervention will be offered later in the year