Drama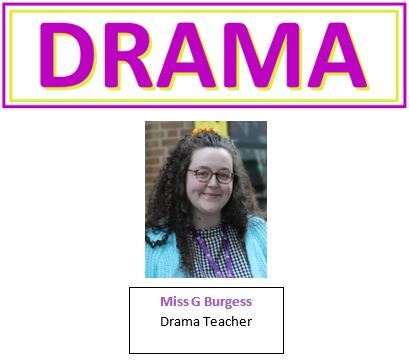 Contacting the department
If you have any questions or concerns about your child, please don't hesitate to contact a member of the Performing Arts department by leaving a message with Reception or by emailing our enquiry address.
We aim to respond to phone calls and emails as quickly as possible, and certainly within 48 hours. Please bear in mind that members of staff may have a day of teaching and may not be able to respond to non-urgent matters until the end of the Academy day or the following Academy day.
By telephone: 0121-464 2737 (main school switchboard)
By email: enquiry@harborneacademy.co.uk
The Drama Department at Harborne Academy comprises of a diverse curriculum that allows pupils to explore the culture of theatre and experiment with different theatre styles. By introducing pupils to some of the world's leading drama practitioners, students will be able to apply stylistic methods to their work, helping to shape their own creativity.
Pupils will have the opportunity to develop their performative skills in a safe and encouraging environment whilst indulging their curiosity in social issues too. Focusing on key texts: Shakespeare, Greek theatre and contemporary plays, students will be able to indulge themselves in the social, cultural and historical context of these genres. Alongside the development of practical skills, students will also learn to evaluate live theatre.
We believe that Drama is an excellent tool to help the development and growth of students' teamwork and communication skills. These transferable skills are easily applied to real life situations and will give pupils the confidence they need to achieve anything they aspire to.
Learning Journey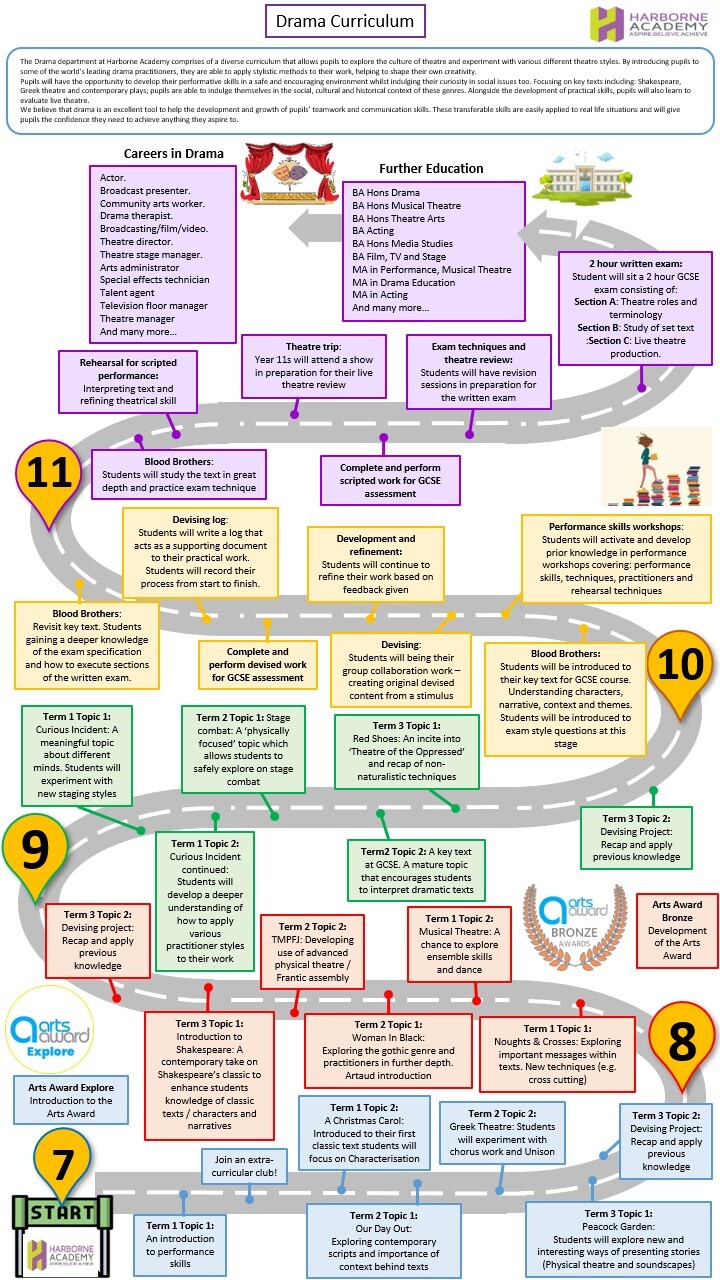 Extra-curricular opportunities
As well as our own extra-curricular clubs and activities, including a weekly drama club and Christmas concert, we also work closely with the Birmingham Hippodrome (HEN) to deliver engaging enrichment through drama workshops.
Key Stage 3
Students are initially taught about the key elements of Drama, exploring the use of physical and vocal skills within a performance space. Once the basic skills have been established, students will have opportunities to build on their performance skills by looking at scripts and key characters. Students will have the chance to explore classic texts such as 'A Christmas Carol' to more innovative and culturally charged stories such as 'The Peacock Garden'. As the students continue their Drama journey, they will be exposed to more creative and complex ideas such as physical theatre, practitioner styles and comedy, whilst also tackling the social issues within stories like 'Noughts & Crosses' and 'Curious Incident of the Dog in the Night-Time'. By the end of Key Stage 3, students will have explored a broad range of theatre styles and texts and will have gained confidence that is transferable to the next stage in the education.
Key Stage 4
Exam Board: AQA
GCSE: 9-1
Component 1: Written Exam – 40%
Component 2: Devising (practical & coursework) – 40%
Component 3: Texts in practice (practical) – 20%

Teamwork and creativity are at the heart of the Drama GCSE course. The first half of the course is dedicated to Component 2 where students will devise their own original piece of theatre using a stimulus as their starting point. Students will be expected to contribute to their group during rehearsals and showcase their skills and knowledge of theatre through their assessed performance.
Students will also perform two extracts from a chosen play as part of their Component 3: texts in practice module. Students will be expected to use their performance skills to portray clear characterisation and display their own interpretation of the text.
Lastly, Component 1 requires the students to sit a written exam at the end of Year 11. The exam assesses the student's knowledge of one set text (Blood Brothers). The students will need to study the historical and cultural context of the set text, understanding the character's motives, the playwright's intentions and show an understanding of costume and set design as well appropriate performance skills.
Photos of Harborne Academy's Christmas Concert 2020: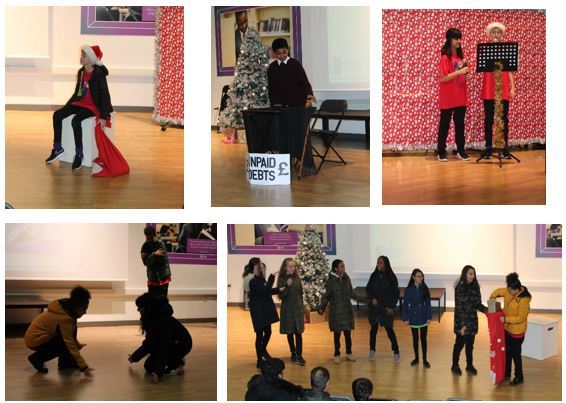 Reading List