Design Technology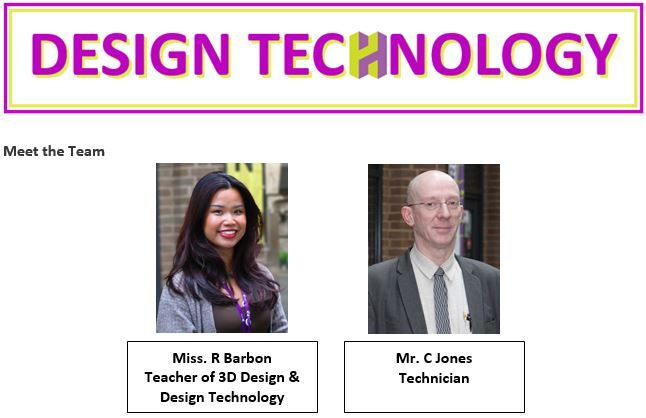 Contacting the Team
If you have any questions or concerns about your child, please don't hesitate to contact a member of the Art and Technology department by leaving a message with Reception or by emailing our enquiry address.
We aim to respond to phone calls and emails as quickly as possible, and certainly within 48 hours. Please bear in mind that members of staff may have a day of teaching and may not be able to respond to non-urgent matters until the end of the Academy day or the following Academy day.
By telephone: 0121-464 2737 (main school switchboard)
By email: enquiry@harborneacademy.co.uk
Why study Product Design?
Design and Technology gives young people the skills and abilities to engage positively with the designing and manufacturing world and to harness the benefits of technology. Students learn how products and systems are designed and manufactured; how to be innovative and make creative use of a variety of resources, including digital technologies, to improve the world around them.
Our Design and Technology curriculum focuses on developing practical skills within key material areas, allowing pupils to learn about industry standards and manufactured products with high quality outcomes. Pupils learn about commercial processes and careers in related industries, as well as developing core transferable skills, such as collaboration and communication. Pupils get to grips with using current technologies and consider the impact of future technological developments.
Pupils will use their creativity and imagination to design and make prototypes that solve real and relevant problems, considering their own and others' needs.
Key Stage 3 – Design Technology
During Key Stage 3, students will have the opportunity to work on a number of skills and gain theory knowledge. This will be achieved through a number of projects that they complete during Key Stage 3. Students will get the opportunity to work with a range of different materials: wood, plastic, metal and textiles, learning about how to cut and shape them using a range of tools and machinery.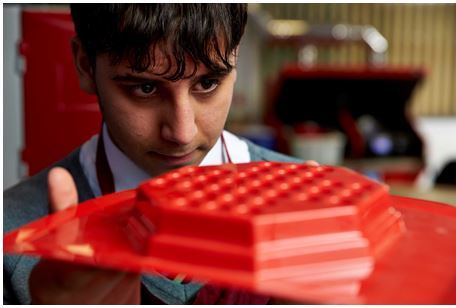 PLEASE NOTE: Students in year 7, 8 & 9 are on rotation between Art, Food & Design Technology. They receive 2 terms in each area over the course of the year.
KS4 Design and Technology – Year 10 and 11
Design and technology exam information:
Qualification and Level - GCSE – 9-1 Assessment
50% coursework 50% exam
Board - Eduqas GCSE Design and Technology
Learning Journey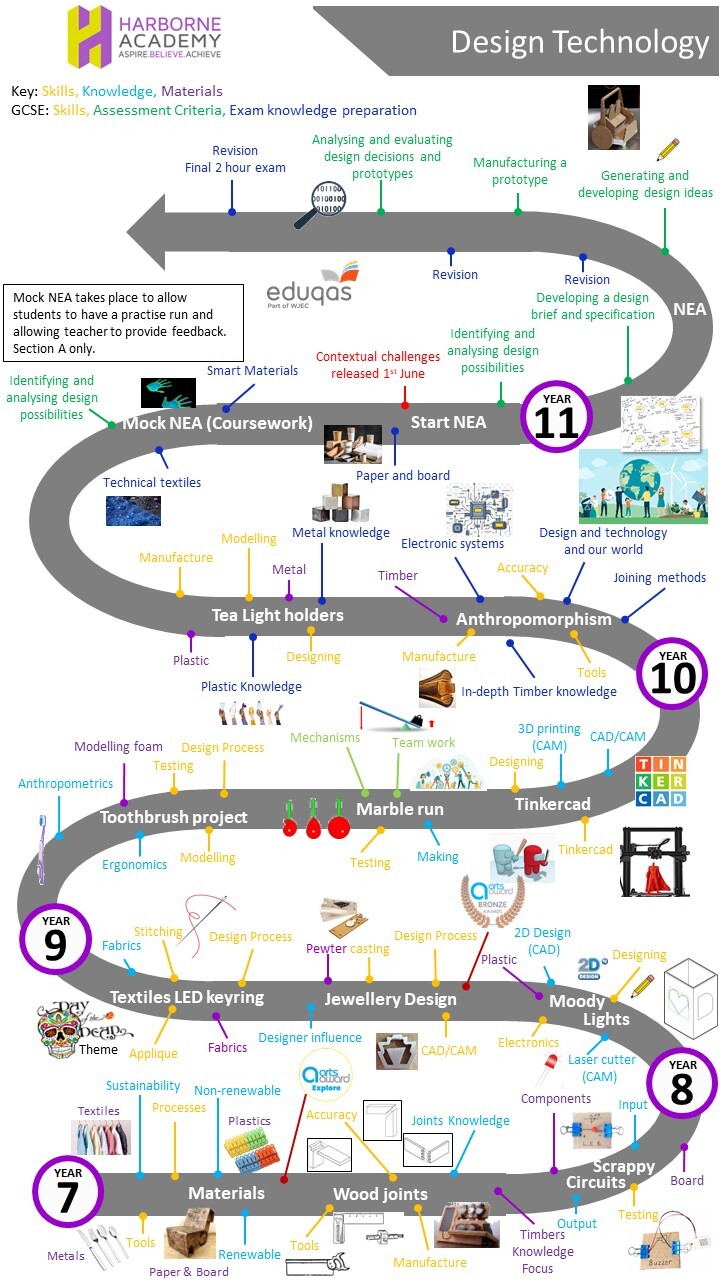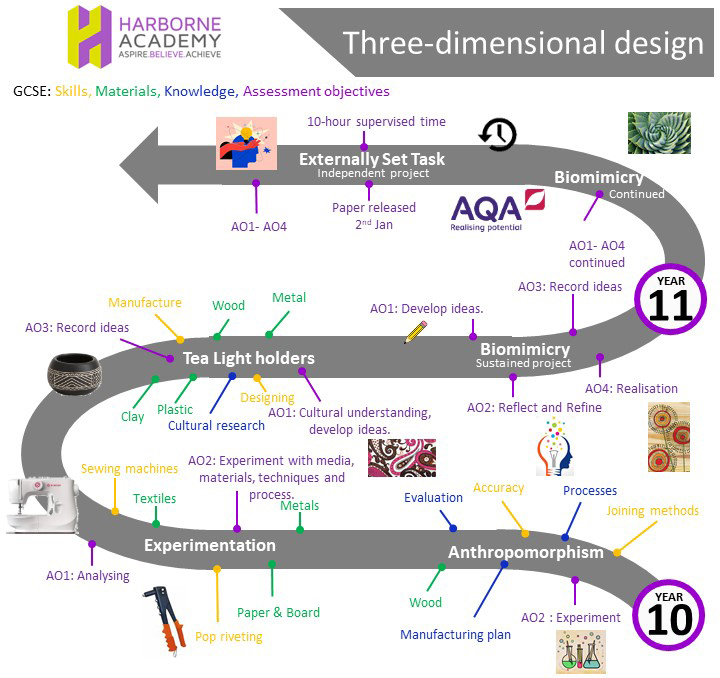 Exam
The subject content is presented under two headings: 'Technical Principles and Designing' and 'Making Principles'. Within each area, the content is subsequently divided into 'Core Knowledge and Understanding' and 'In-depth Knowledge and Understanding'.
The specification content and assessment requirements are designed to ensure learners develop an appropriate breadth and depth of knowledge, and understanding of design and technology.
Technical Principles
Core knowledge and understanding is presented in five clear and distinct topic areas:
• Design and technology and our world • Mechanical components and devices
• Smart materials • Materials
• Electronic systems and programmable components
Students have to also have in-depth knowledge and understanding of a particular material which will be natural and manufactured timber.
The exam also includes 15% maths and science related questions.
Coursework - Designing and Making Principles
Core knowledge and understanding that learners are required to develop and apply is presented in ten clear topic areas:
• Understanding design and technology practice • Understanding user needs
• Writing a design brief and specifications • Investigating challenges
• Developing ideas • Investigating the work of others
• Using design strategies • Communicating ideas
• Developing a prototype • Making decisions
Year 10 – Students will gain the in-depth knowledge and understanding required for them to meet the specification. This will be achieved through a range of small projects accompanied with theory lessons.
Year 11 – Students will complete their coursework. This will be based on the contextual challenges the exam board releases. Students will need to apply the skills and knowledge they have gained from the start of Year 7 to be successful in their course. They will continue to have theory lessons throughout the year to help them prepare for their 2 hour exam at the end of Year 11.
Three-dimensional Design
Qualification and Level - GCSE –9-1 Assessment
60% non-exam assessment 40% exam
Board - AQA GCSE Three-dimensional design
Three-dimensional design allows students build on the knowledge, skills and understanding established in KS3. The course is designed to encourage students to develop skills, creativity, imagination, testing, prototyping, modelling, assembly, independence and more. Students will experience a wide range of approaches in the use of materials, processes and techniques, testing and analysing as they go.
The exams and non-exam assessment will measure how students have achieved the following assessment objectives, over the two year course.
AO1: Develop ideas through investigations, demonstrating critical understanding of sources.
AO2: Refine work by exploring ideas, selecting and experimenting with appropriate media, materials, techniques and processes.
AO3: Record ideas, observations and insights relevant to intentions as work progresses.
AO4: Present a personal and meaningful response that realises intentions and demonstrates understanding of visual language.
Component 1 (60% non-exam assessment) students will complete a number of different projects to aid them in meeting the above assessment objectives. They will have the opportunity to work with a number of different materials and processes.
Component 2 (40% exam) is the set task from the exam board which requires pupils to choose a starting point from a list and prepare work over a number of weeks, resulting in a final idea which will be done within 10 hours set exam time. Pupils can produce work within a number of areas, and develop skills in different media and techniques, allowing them to create work which suits their ability and preference.
Useful Resources and Revision Support:
Reading List