IT, iMedia and Computing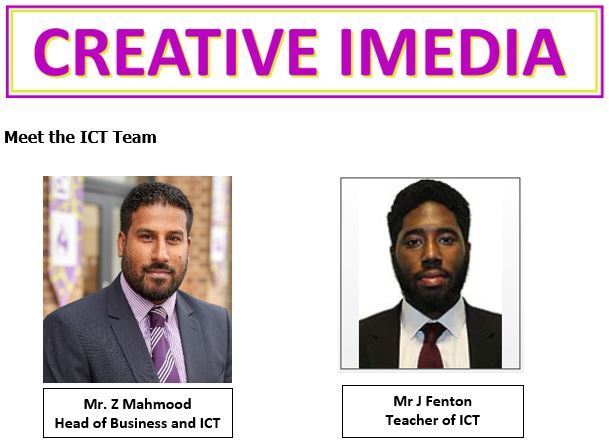 Contacting the Team
If you have any questions or concerns about your child, please don't hesitate to contact a member of the Business and ICT team by leaving a message with Reception or by emailing our enquiry address.
We aim to respond to phone calls and emails as quickly as possible, and certainly within 48 hours. Please bear in mind that members of staff may have a day of teaching and may not be able to respond to non-urgent matters until the end of the Academy day or the following Academy day.
By telephone: 0121-464 2737 (main school switchboard)
By email: enquiry@harborneacademy.co.uk
KS3 Computing
A high-quality computing education equips pupils to use computational thinking and creativity to understand and change the world. Computing has deep links with mathematics, science, and design and technology, and provides insights into both natural and artificial systems. The core of computing is computer science, in which pupils are taught the principles of information and computation, how digital systems work, and how to put this knowledge to use through programming. Computing also ensures that pupils become digitally literate – able to use, and express themselves and develop their ideas through, information and communication technology – at a level suitable for the future
The following topics are expected to be delivered at KS3:
Year 7: Digital Literacy: Microsoft PowerPoint, Word, Publisher, Spreadsheet, Algorithms.
Year 8: Digital Literacy: Microsoft PowerPoint, Word, Publisher, Spreadsheet, Python, Hardware and Software, Python, Sketch up, web design.
Year 9: Digital Literacy: Microsoft PowerPoint, Word, Publisher, Spreadsheet, Graphics (Bitmap/Vector), Cyber security, Wed design, Business online.
The topics in each year will be taught over a 4-week period and will be assessed accordingly. Assessment for each will be through baseline testing (initially) and end of topic test.
KS4 ICT
Creative iMedia is optional at Key Stage Four and is a popular choice with pupils. The following is key information regarding the course.
Exam board
Cambridge Nationals level 1/2 in Creative iMedia - Syllabus & Past papers on the Pearson Website shown below.
Exam Information
There is one external exam.
R093: Creative iMedia in the Media industry
Units
R093: Creative iMedia in the Media industry
R094: Visual identity and digital graphics
R095: Characters and comics
These qualifications will assess the application of creative media skills through their practical use. They will provide learners with essential knowledge, transferable skills and tools to improve their learning in other subjects with the aims of enhancing their employability when they leave education, contributing to their personal development and future economic well-being. The qualifications will encourage independence, creativity and awareness of the digital media sector.
The Cambridge Nationals in Creative iMedia will equip learners with a range of creative media skills and provide opportunities to develop, in context, desirable, transferable skills such as research, planning, and review, working with others and communicating creative concepts effectively. Through the use of these skills, learners will ultimately be creating fit-for-purpose creative media products. The Cambridge Nationals in Creative iMedia will also challenge all learners, including high attaining learners, by introducing them to demanding material and techniques; encouraging independence and creativity and providing tasks that engage with the most taxing aspects of the National Curriculum.
The 'hands on' approach that will be required for both teaching and learning has strong relevance to the way young people use the technology required in creative media. It will underpin a highly valid approach to the assessment of their skills as is borne out by what teachers tell us. The qualification design, including the range of units available, will allow learners the freedom to explore the areas of creative media that interest them as well as providing good opportunities to enhance their learning in a range of curriculum areas.
Learning Journey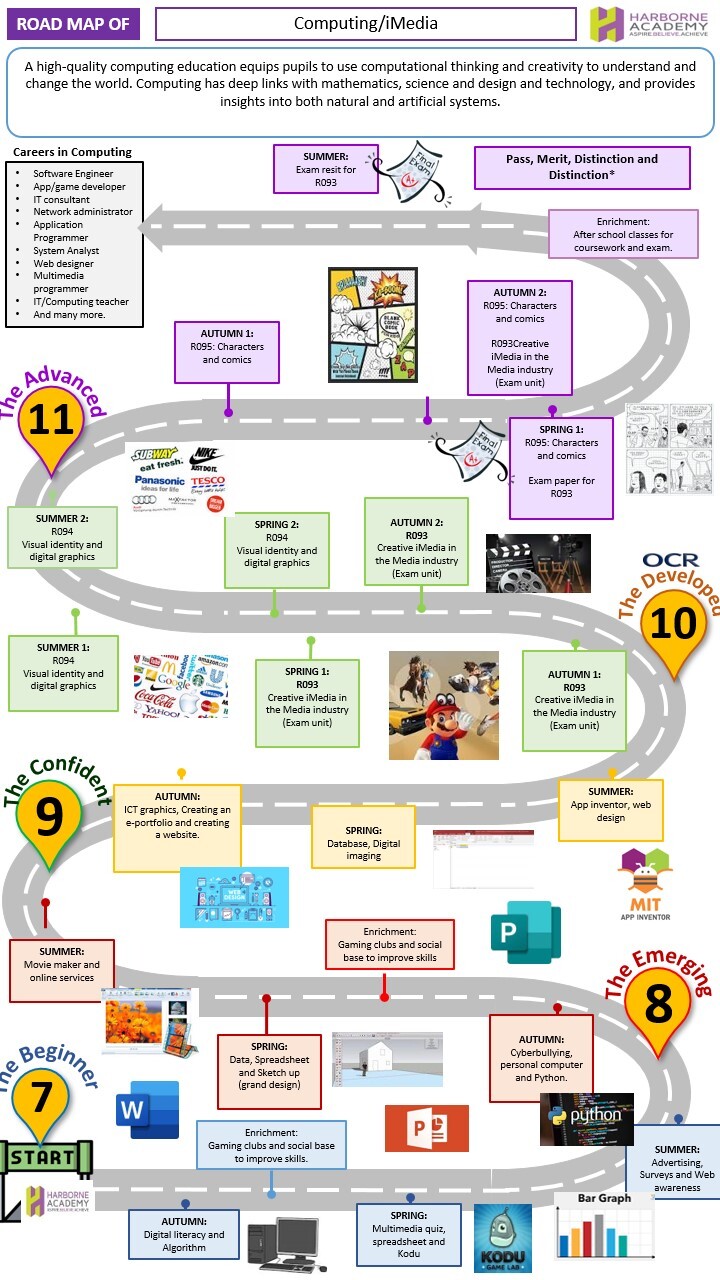 Careers information
This qualification is a good grounding for any students in any discipline since the skills acquired in the use of IT in Business and problem solving will apply to any field of study at any level. Students wishing to go into employment will have the skills and specialist knowledge to open doors to working in Cyber Security, Marketing, Project Management, Date Management and creative or technical roles. Students wishing to continue their IT studies will be able to increase their knowledge and continue to an A level standard (Level 3 Award).
Useful websites and books:
Useful websites to revise OCR Cambridge Level 1/2 in Creative iMedia: