Student Welcome
Benito and Julia (Head Boy and Head Girl)
Hi. I'm Benito and I'm the Head Boy at Harborne Academy. Over the last few years, the Academy has aided my learning in the best ways possible. There is great support from all staff who all make sure they are available, should a student need to talk or ask for advice. This, along with the fact that the teaching is the best of the best, allows for every child to follow their dreams, to Aspire, Believe and Achieve. Overall, as a community, the students work very well together, and get to enjoy a range of enrichment clubs, during lunch times and after school. This enthusiastic environment helps deliver the students the best grades to follow their dreams.
Hello, my name is Julia and I am the Head Girl of Harborne Academy. I would like say a couple of warming words for our school website.
My role as Head Girl is to be a role-model, encouraging other students to behave in the correct way. I also look after all of the prefects and check if their duties are done. To have this huge role I need to be a strong leader and have strong communication skills.
I have been at Harborne Academy for four years and believe me, it's been the most amazing and fun four years ever. My school is, in my opinion, outstanding and very unique. The Academy is full of well-mannered, punctual and intelligent students. The staff are friendly, supportive and compassionate. My school isn't just a school it's a place where me, the students and teachers unite and work together to get our grades. Everything is kept 'in order' at this school. I really love my school and I`m glad to come to Harborne Academy.
Our enrichment programme at Harborne Academy aims to teach students in a fun and relaxed environment. It is a great opportunity to learn something you wouldn't usually do. Here at Harborne Academy we offer: movie nights, computer building, gospel choir, chess, gym, fitness and much more.
At most schools you would have to pay for something like this but Harborne Academy gives students the opportunity to learn a new skill or simply just have fun.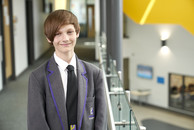 Alex and Ben (Year 10)
Here at Harborne Academy, I have been given a warm welcome. Every morning when I walk into school, I get greeted with smiles not just from teachers, but from the pupils as well. I always thought that my jump from year six to year seven would be stressful and I would not make many friends. It is clear to say that it has not been anything like this, even though the workloads have increased, I have gained help and support in every step I take.
Aliyah (Year 7)
Throughout year 7, we covered a range of topics in all our lessons. I felt safe on my first day at this school. The school has an excellent safeguarding team that will help you along the way. At lunch there is an optional comfort zone where students who do not want to go outside can relax, socialise and play board games. I enjoyed year 7 at Harborne Academy and I would encourage people to join this school to work hard and persevere in their work.
Kyra (Year 8)
Students who come into Year 7 are immediately informed about English Plus. This is a lesson where History and English are combined into one. It is a very successful part of the school, where children create project work that is then displayed. Last year, we created a wonderful book based on the Industrial Revolution and later on in the year, an ammunition box based on WW1. Also in English Plus, all students are invited to recite a poem in front of the class. To conclude, we were really stretched in all our lessons, reaching our full potential. I would definitely recommend this school to anyone who wants to have a fantastic education.
Tom (Year 8)
Our school made our option choices very simple through the process of assemblies, Kudos careers day, option taster week and during this day we got extra information about the subjects we were interested in and we also got information about examinations. Finally our option form was very simple to use since the subjects were grouped in option block so that we know how much subjects we can choose and in what configuration. Lastly, we had been given pathways according to our ability in different subjects which gave us propositions about which subjects we should choose to achieve the best grades according to our SAT's grades.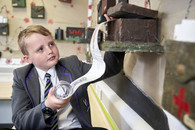 Oscar (Year 9)
Harborne Academy, within the last few years, has aided my learning in the best ways possible. The school has improved with many opportunities to excel, such as trips. Every teacher at the school follows an open policy, where they make sure they are always ready, should a student need to talk or ask for advice. This aspect, and the fact that the teaching here is the best of the best, allows for every child to follow their dreams, to Aspire, Believe and Achieve.
Hello my name is Pouriya and I wanted to inform you of the enrichment programs offered at Harborne Academy. We offer many varieties and advanced programs during school lunch times and after school for designated years or for all the school. These programs include: Sports, Chess club, Movie club, build a computer, gospel choir and much more. We love to offer different activities which may help further their knowledge in a certain expertise or our students to become passionate about that activity or enjoy it as a hobby.
Pouriya (Year 10)