Student Welcome
Kofi and Alex (Head Boy and Head Girl)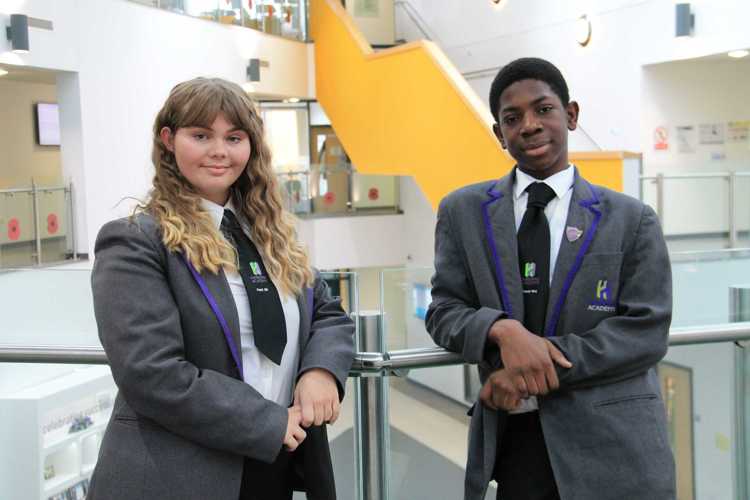 Kofi and Alex (Head Boy and Head Girl)
Hello, my name is Kofi and I'm the Head Boy of Harborne Academy.
During my time at Harborne Academy, I have seen many changes within the Academy; including improvement in the teaching and learning and an overall improvement in the behaviour displayed by students both in and out of the Academy. The most important factor is how the learning environment is centred around the students focussing on our well-being and success.
During my time at Harborne Academy, I have noticed a shift in the focus on ensuring students are not just academically successful, but are also given the opportunity to enhance their interests through extra-curricular activities. Our dedication to providing students with outstanding life experience is unrivalled and students take opportunities provided to them with both hands. The Academy's focus on creating students who are members of a wider community is evidenced through the generosity of our students for our chosen charities, as well as their commitment to the B30 Foodbank.
The facilities available at Harborne are first-class with the Academy having a fully equipped gym; state of the art technology; a beautiful library displaying student work to encourage a love for reading; a string of fully equipped science labs; and a trampoline room, just to name a few of our facilities.
I am grateful to have had the opportunity to study at Harborne Academy and would encourage parents to consider it as a choice for their children.
Thank you for your time in reading this.
Kofi
Hi, my name is Alex and I am the new Head Girl of Harborne Academy.
I have been at Harborne Academy for four years and they have been the best four years of my life!
I love the friends I have made over the years and I appreciate them very much. The teachers are the best in the business and you will never come across anyone better. Our teachers are passionate about their subjects and genuinely want the best for each and every student. They always try and find different ways of teaching therefore the learning experience is more fun and effective, which is reflected in our results.
We are not just an Academy – we are a community who looks after one another; helps one another; and works to bring out the best for one another. The pastoral system at Harborne Academy puts others to shame. The support provided to students is unrivalled with staff working hard to ensure every child is welcomed with open arms. This has been the case for myself and the thought of leaving this nurturing environment at the end of this year saddens me.
As Head Girl, my job is to represent the school at whole-school events, therefore you must be able to make public speeches. This is something that would have terrified me five years ago, but being at Harborne Academy has helped build my confidence and I am now able to speak in front of my peers and guests. I am able to be a good role model for younger peers because I have good role models in the staff around me. I am also on the Student Leadership Team which means I am an active voice in representing my peers' thoughts and feelings regarding the running of the Academy. This includes raising money for our charities through student initiatives such as soak the teacher and running a tuck shop. All of these opportunities have allowed me to develop as a person and gain skills I will be able to use later in life, this is something I am grateful to Harborne Academy for. As a result, I am proud to be a part of Harborne Academy.
Thank you for taking the time to read my statement.
Alex